FREE Bankruptcy and Foreclosure Seminar in Torrance!

Wednesday, November 20, 2013 from 10:00 AM to 11:45 AM (PST)
Event Details
Please Join Us November 20th   
FREE Bankruptcy Seminar Exclusivley For Real Estate Professionals!
Learn about the different types of bankruptcies and common scenarios you and your clients might face, including issues pertaining to real estate.
The presentation will give an overview of Chapter 7 bankruptcy, Chapter 13 bankruptcy and the difference between the two.
Presented by: Elena Steers and Allen Vaysberg with the Law Offices of Steers & Associates.The Law Offices of Steers & Associates is a full service law firm specializing in debt relief services for individuals and small businesses. 
Common scenarios will also be discussed, especially as they pertain to real estate issues such as, assisting with:
 

Clients' short sales

 

Clients with sales while in bankruptcy

 

Helping clients' loan modifications proceed while in bankruptcy

 

Removing clients' junior mortgage liens in a Chapter 13 bankruptcy
Come and find out what options you and your clients have when being faced with some of these situations:
 

A foreclosure is pending against your clients' property

 

Your clients are about to begin the loan modification process, but their credit card debt is too high

 

Your clients' loan modification was approved for the first mortgage, but there is a substantial 

 

balance on the second mortgage

 

Your clients' property is worth a lot less than what they owe on their first mortgage and they also have a second mortgage/equity line

 

Your clients' property was sold through a short sale prior to January 2011, but there is a deficiency balance for which your clients may be responsible

Special guest speakers will be Attorney Brian Angelini with Angel at Law, Attorney Benjamin Brin with Brin Financial | Legal, Loan Officer Lamont Smith with PNC Mortgage & Insurance Agent Christian Bevington with Bevington Insurance. 
 Brian Angelini of Angel at Law specializes in plaintiff's litigation & Real Estate transactions. 
Topics of discussion will include: 
- Common Real Estate Issues in Today's Economic Climate

- Defective Foreclosure Procedures

- Consent Orders, Judgements, Etc. between Goverment Agencies & Banks

- Relavant California Case Regarding Foreclosures

- California Legislation Regarding Foreclores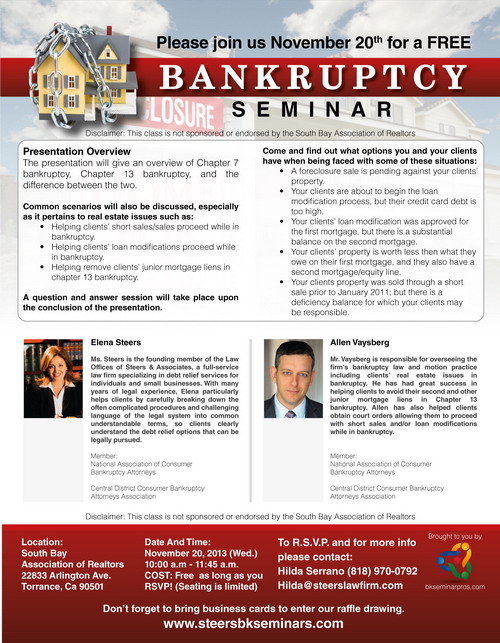 THANKS TO OUR SPEAKERS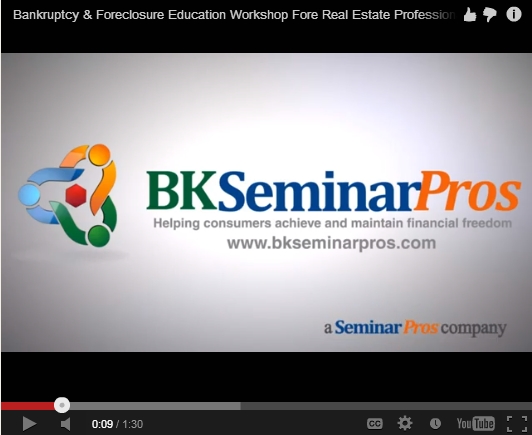 Stay connected with us on the web! 

DONT FORGET TO BRING YOUR BUSINESS CARD TO ENTER AT A CHANCE
TO WIN OUR RAFFLE  DRAWING

When & Where

South Bay Association of Realtors
22833 Arlington Avenue
Torrance, CA 90501


Wednesday, November 20, 2013 from 10:00 AM to 11:45 AM (PST)
Add to my calendar