Location
Phoenix Convention Center
33 S. 3rd Street
Phoenix, Arizona 85004
Sales Have Ended
Registrations are closed
THANK YOU FOR COMPLETING THE FREE BABY BOX REGISTRATION! PLEASE CONFIRM RECEIPT OF THE EMAIL CONFIRMATION. WE ARE NOT RESPONSIBLE IF YOU DID NOT RECEIVE AN CONFIRMATION EMAIL. YOU WILL NEED TO PRINT AND BRING THE ATTACHED PDF DOCUMENT TO CLAIM YOUR FREE BOX. IF YOU DID NOT PLACE YOUR ORDER NUMBER FROM YOUR TICKET PURCHASE IN YOUR REGISTRATION FORM, YOUR REGISTRATION WILL BE VOID.
Description
Woohoo!!!


FREE BABY BOX For expecting and new parents
---
Are you coming to the Phoenix Baby Show? Claim your Free Baby Box!
If you are an Expecting or New Parent, our great sponsors wish to offer you this awesome Baby Box!!!
Limited one per Household. Supplies are Limited. Addresses and names will be verified. ONLY expecting and new parents are permitted to redeem the Baby Box.
---

This FREE BABY BOX is NOT the BBB Introductory Baby Box produced by Baby Bellies and Beyond.


---
To claim your FREE Baby Box, you MUST have already purchased and have the Order Number from your ticket purchase to complete the registration. You must complete the registration BEFORE Sunday, April 1, 2018 or while supplies last. Any registrations made thereafter will not be confirmed.
Follow the steps below and register now for your FREE Baby Box!
---
---
Step 1
PURCHASE YOUR TICKETS TO THE SHOW IF YOU HAVE NOT DONE SO ALREADY. DO NOT PROCEED TO THE NEXT STEP IF YOU DO NOT HAVE TICKETS TO THE SHOW. YOU WILL NEED THE ORDER NUMBER TO PROCEED. If you register without having all the data, your registration will be void.

Click here here to purchase your tickets now:
https://phoenix.ticketforce.com/orderticketsarea.asp?p=820&a=19&src=eventperformances
Step 2
YOU MUST LIKE & FOLLOW US ON OUR SOCIAL MEDIA
FACEBOOK: http://facebook.com/babybelliesand beyond
INSTAGRAM: http://instagram.com/babybelliestv
TWITTER: http://twitter.com/babybelliestv
Step 3
Select One (1) Baby Box below (Limited to one expecting mom per household) and proceed to complete the online registration. IMPORTANT: Make sure to confirm the email address you enter into the registration. We are not responsible for any incorrect email addresses that are entered into the registration form. If you did not receive a confirmation email with a Ticket Voucher, you will not be able to claim your FREE Baby Box.
Step 4
Print out your Ticket Voucher that you will receive via the email address you listed in the registration form. If you did not receive an email, you will not receive a box. YOU MUST PRINT THE ATTACHED PDF TICKET VOUCHER AND BRING IT TO THE EVENT TO CLAIM YOUR FREE BABY BOX. NO EXCEPTIONS. Your electronic copies on your mobile devices WILL NOT BE ACCEPTED.
Step 5
Present your FREE BABY BOX Ticket Voucher at the designated booth at the Phoenix Baby Show to redeem your gift.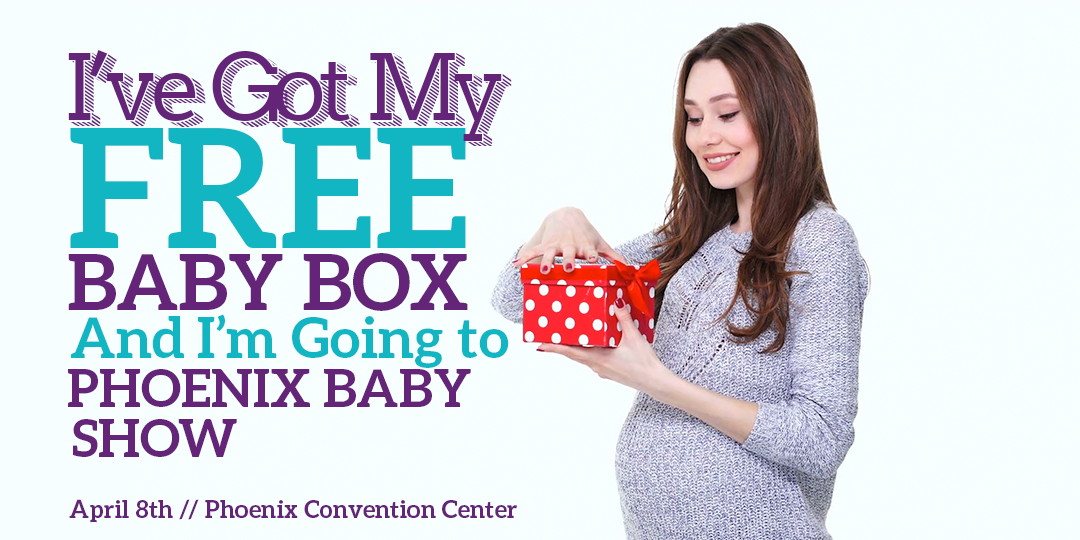 Restrictions Apply
ONLY Expecting or New Parent, are permitted to register and redeem the Baby Box. Family members, friend, and relatives may not collect/pick-up the Baby Box on their behalf. No exceptions.


---
---


WHY COME TO THE SHOW
Meet with Product Experts to help Build Your Baby Registry

Save up to 30% on products from top brands

Baby-wearing Demo sponsored by LILLEbaby

Meet with Local Healthcare Experts

Demos: Baby Gear, Infant CPR, Car Seat Safety & More

WIN AMAZING PRIZES FROM CAR SEATS, STROLLERS, BABY CARRIER AND MORE!
---
Disclaimer:
Baby Bellies and Beyond and it's sponsors and/or affiliates will not be responsible or liable in any way for refunds, returns, damaged or expired products in connection with merchandise offered or won at the Show, sold or distributed by sponsors/exhibitors/presenters, included in gift bags, or sold as part of a ticket package. Baby Bellies and Beyond/Socialeyes Brands makes no express or implied warranties or representations whatsoever with regard to any goods or services provided by our sponsors/exhibitors/presenters. Baby Bellies and Beyond will not be liable for any costs or damages arising directly or indirectly from such transactions. Baby Bellies and Beyond does not assume any responsibility or liability for the actions, omissions, products, services or content offerings of sponsors/exhibitors/presenters. Communications or disputes regarding products or services received at the Show are solely between the sponsor/exhibitor/presenter and you. Baby Bellies and Beyond reserves the right to substitute ticket package items.