Free! ATX Youth Summit 2019: "A Celebration Teen of Creativity"

Monday, February 18, 2019 from 9:00 AM to 5:00 PM (CST)
Event Details
ATX Youth Summit 2019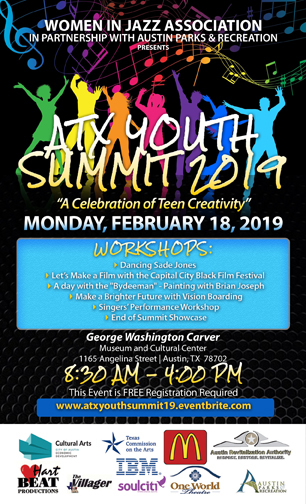 Program Overview
 The Purpose of the ATX Youth Summit 2019 project is to provide an artistic learning experience for Austin youth between the ages of 7 and 18 by having them participate in the following activities;
Dancing with Sade Jones, Choreographer, Ashe Arts Austin

Let's Make a Film with the Capital City Black Film Festival

A day with the "Bydeeman" - Painting with Brian Joseph

Make a Brighter Future with Vision Boarding

Singers' Performance Workshop and Karaoke

End of Summit Showcase
 Lunch and snacks are provided.
Monday, February 18, 2019
Who should attend?  Youth ages 7 to 18
8:30 – 9:00 a.m.                                                Location: George Washington Carver Foyer 
Registration and Continental Breakfast and Networking
9:00 – 9:15 a.m. Opening General Session       Location: Boyd Vance Theater
Welcome and Summit Overview                       
Pamela Hart, Co-Founder
Women in Jazz Association, Inc., Austin, Texas
Thank You to Our Sponsors:               
City of Austin Cultural Arts Division

Austin Revitalization Authority

McDonald's Corporation, Cedar Park

IBM

City of Austin, Parks and Recreation Department

HartBeat Productions
OPENING SESSION          9:15 a.m. – 10:30 a.m.
Location: Boyd Vance Theatre
MORNING CONCURRENT WORKSHOPS 10:30 - 11:45
Let's Make a Film      
Location:  Carver Classroom
Lights…  Camera…  Action!!!  Learn how to make a short film.  Get ready for this fast paced session! There will be a short script.  Attendees will be assigned roles such as actors, camera operator, set designer, script supervisor, lighting technician, boom operator and more…  We will rehearse, film, edit and view a short film.  Attendees are asked to provide an email address to which the link for the short film will be sent to share with others.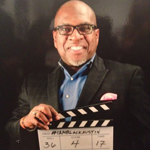 Instructor:         Winston G. Williams, Co-Founder and Executive Team Member, Capital City Black Film Festival
Make A Brighter Future with Vision Boarding
Location:  Carver Foyer
"If you can see it, you can be it."  Picturing your dreams goals is one of the most powerful mind exercises you can do.  Students will learn the value of writing down their visions with words and pictures and how to visit them daily and act upon them to see them come true!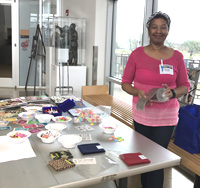 Instructor:  Charelesa Russell, CRussell Enterprises
 A Day with The "Bydeeman"
Location:  Carver Dance Studio
Austin Youth will share an artistic experience painting a colorful mural with The "Bydeeman".  Brian Joseph called "Bydeeman" because he paints and shares the philosophy of the fictitious Bydee People that he created with his first painting on September 9, 1986.  Joseph and his Bydee community strive to promote peace, love and happiness.  He pointed out that the Bydee people have no faces because of the human tendency to emphasize looks. "You don't have to be good looking to be happy," Joseph says.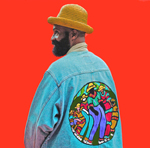 Instructor:  Brian Joseph, The "Bydeeman"
11:45-12:30 Lunch Break (Lunch provided)
AFTERNOON CONCURRENT WORKSHOP
12:30 – 2:00 pm
Let's Make a Film (Continued)      
Location:  Carver Classroom
Dancing with Sade Jones, Ashe Arts Austin           
Location:  Dance Studio
Learn a dance routine from Choreographer Sadѐ M. Jones and learn African dance, jazz, ballet, hip hop and modern dance!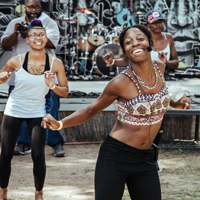 Instructor:         Sadѐ M. Jones, Choreographer, ASADEIZM
Women in Jazz, Inc. Singer's Performance Workshop and Karaoke
Location: Boyd Vance Theatre
This dynamic and interactive session will focus on effective communication and performance techniques in music. Sing with a live band and learn how to direct them to play the song the way you want to sing it. Sing jazz, Gospel and soul or perform spoken word. Learn how to move on the stage and capture your audience as you sing in your own style!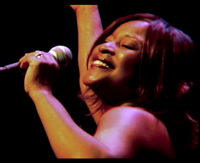 Instructor:         Pamela Hart, Co-Founder, Women in Jazz Association, Inc.
Karaoke Host:  Paul Adams, Life of the Party Mobile Music
Break 2:30 – 3:00
Afternoon General Session - ATX Youth Summit Showcase
Dance Presentation by Ashe Arts Dance Company
3:00 – 4:00 p.m.        
Location:  Boyd Vance Theatre
Students will showcase their art on the Boyd Vance Theatre stage, including visual art, dancing, film, and singing!  There will also be a special dance presentation by Ashe Arts Dance Company Parents and guests are welcome to attend.
Parent Pickup
4:00-4:30 p.m.        
Contact Women in Jazz:  512-258-6947
When & Where

George Washington Carver Cultural Center
Boyd Vance Theater
1165 Angelina Street
Austin, Texas 78701


Monday, February 18, 2019 from 9:00 AM to 5:00 PM (CST)
Add to my calendar
Organizer
Non-profit, tax-exempt organization that raise funds by producing concerts and workshops. The purpose of Women in Jazz Association is to perpetuate the appreciation and performance of traditional jazz vocal and instrumental music. As vocal jazz is a declining art form, this purpose is charitable -- the protection and preservation of a valuable art form called jazz; that is, vocal jazz. It is through concerts, educational workshops, and performance opportunities of singers that provide the means to the end -- perpetuate vocal jazz music.
Contact:  512-258-6947