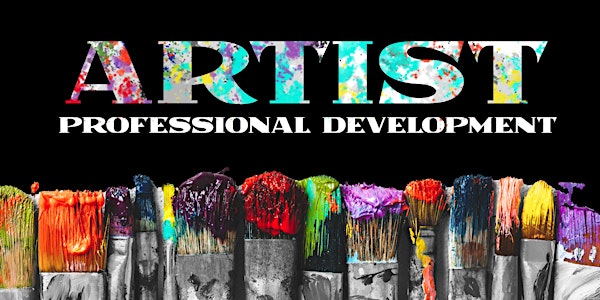 FREE ARTIST PROFESSIONAL DEVELOPMENT - Setting Career Goals
Artist Prof. Development : Setting goals and talking about your work
About this event
Join our first free Professional Development for Artists session. In this online event gallerist Krista Scenna will discuss the different models of artistic career, setting career goals, and how to talk about your work.
THE PROGRAM:
Art & Advocacy : Artist Professional Development is a series of free online professional development courses for artists. Equity is a huge issue in the professional art market. With the rise of paid artist professional development platforms, marginalized communities are getting left behind. Our goal is to create a more equitable and diverse community of succesful professional artists.
THE EXPERT:
Krista Scenna is an independent curator and gallery owner based in Brooklyn, NY. Krista has worked for the ICA in Philadelphia, the Queens Museum and the New Museum in various capacities. Her past exhibitions include collaborations with BRIC, NURTUREart and Lesley Heller Workspace and site-specific exhibitions in alternative forums such The Old Stone House, DUMBO Arts Festival, SPRING/BREAK Art Show and the Cigar Factory, LLC.
Krista connects local emerging artists with new art buyers as the Co-Founder and owner of Ground Floor Gallery based in Park Slope, Brooklyn from 2013-2020. The gallery continues to operate as a virtual platform specializing in solo artist projects, commissions and art consulting for new collectors.
Specializes in: Curatorial Statements, Exhibition Planning/Curation, Exhibition Promotion, Press Releases, PR Outreach, Preparing for Studio Visits, Artist Statements, Gallery Outreach and Artwork Pricing
THE SPONSORS:
Public Art For Racial Justice Education (PARJE) is a non-profit based in Connecticut devoted to bringing communities together to address inequity and inclusion through art.
Find out more at www.racialjusticeart.org
Ninth Street Collective is a group of art administrators, gallerists, curators, writers and critics who want to help artists succeed. With a focus on professional development, we offer one-on-one consultations with artists in-person and online, and serve as a hub for resources for artists. With a combined 85 years of experience in the contemporary art world, they offer courses and individual consulting to artists at all stages of their careers.
Find out more at www.ninthstreetcollective.com/
Special thanks to the Cultural Coalition of South Easter CT and CT Humanities for supporting this program.