Free Art Friday at The Heidelberg Project
When and where
Location
The Heidelberg Project 42 Watson St Detroit, MI 48201
Description
Create art on the most inspiring street in Detroit!
This event brings The Heidelberg Project and Free Art Friday Detroit together in a workshop aimed to inspire the artist in all of us. During this workshop, we will share the work of both organizations, tour the famous Heidelberg Street and create several pieces of art.
We'll incorporate the style of The Heidelberg Project's founder Tyree Guyton in the creation of miniature homes and place them respectfully around the city in the tradition of Free Art Friday Detroit. It's an incredible way to explore your creative side and share your love of art with the world.
Join us and get creative!
What is The Heidelberg Project?
The Heidelberg Project is art, energy, and community. It's an open-air art environment in the heart of an urban community on Detroit's East Side. Tyree Guyton, founder and artistic director, uses everyday, discarded objects to create a two block area full of color, symbolism, and intrigue. Now in its 27th year, the Heidelberg Project is recognized around the world as a demonstration of the power of creativity to transform lives.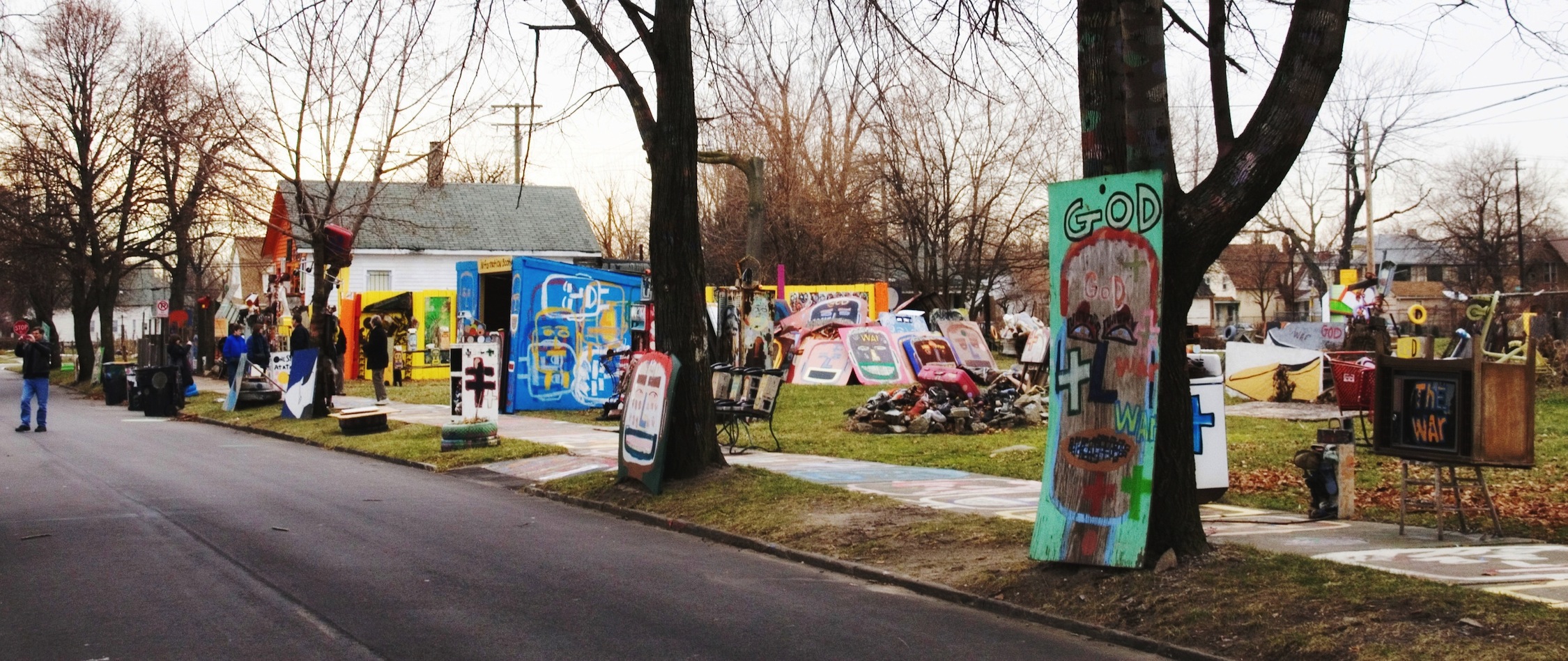 What is Free Art Friday Detroit (FAFDET)?
FAFDET is a free art scavenger hunt held in the city of Detroit. Every week dozens of artists create art, then hide it around the city for others to enjoy. Here's how it works:
1. An artist creates a custom piece of art – anything from a painting to a screenprint to a sculpture.
2. Instead of keeping it for themselves or selling it, they leave it respectfully in public places around the city.
3. They write their contact info on the back of the piece and include a note offering more instructions. See sample:http://www.fafdet.com/note.pdf
4. The artist posts a photo clue of the drop spot to the FAFDET Facebook page and tweets the same clue with hashtag #FAFDET.
5. Anyone who finds it is free to take the artwork home. We just ask that they tweet or post a photo to this page letting us know it has found a good home!
Here's a piece hidden on the statues at the YMCA! Can you spot it?