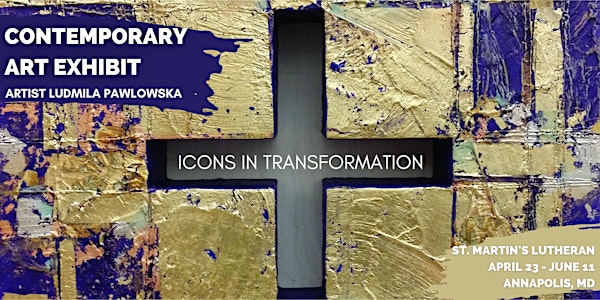 Multiple dates
Free Art Exhibit: ICONS in Transformation with Artist Ludmila Pawlowska
FREE Contemporary Art Exhibit Benefitting Ukranian Refugees: ICONS in Transformation, Featuring International Artist Ludmila Pawlowska
By St. Martin's Evangelical Lutheran Church
Date and time
April 23 · 12pm - June 11 · 2pm EDT
Location
St. Martin's Evangelical Lutheran Church 1120 Spa Road Annapolis, MD 21403
About this event
Experience ICONS in Transformation
Free and open to the public, Ludmila Pawlowska's expressionist three-dimensional paintings invite you to explore the dialogue between the temporal and eternal in her internationally-acclaimed contemporary art exhibit ICONS in Transformation. All of the artist's proceeds will benefit Ukrainian refugees.
The exhibit has traveled throughout cathedrals, churches, and museums in Europe, and for the last decade has toured in the United States. More than 2 million people worldwide have experienced this transformative art exhibit.
Now ICONS In Transformation is debuting in Annapolis, Maryland for the first time at St. Martin's Evangelical Lutheran Church (1120 Spa Road). St. Martin's welcomes individuals and groups to experience ICONS in Transformation from April 23 through June 11. The exhibit is free and open to the public. Private group tours are available by appointment only; make your arrangements by calling 410-757-5090.
Guided Tours Are Available (April 23-June 11):
Wednesdays, 4 to 7 p.m.
Saturdays, 10 a.m. to 2 p.m.
Sundays, Noon to 2 p.m.
Concert with Naval Organist Monte Maxwell & Extended Exhibit Hours
Sunday, May 21, 3 p.m. (free and open to the public)
While the exhibit is free and open to the public, we kindly ask you to reserve a tour time. All of the artist's proceeds benefits Ukrainian refugees.