Join us for free admission, treats, a sale, and an Author Open House! We will feature Eunice Brewer-Trotter, and Mickey Maurer, Jim Poyser.
About this event
Join three local authors and enjoy free admission, sales, fall treats, and more on Saturday, October 16th at the Kurt Vonnegut Museum and Library where authors Eunice Brewer-Trotter, Mickey Maurer, and Jim Poyser will talk about and sign their books.
Author: Eunice Brewer-Trotter
Title: Black in Indiana
Life for Blacks in Southern Indiana in the 1820s could be brutal, but Mary Bateman Clark's victorious lawsuit helped advance change. This book is a must-read which looks beyond typical stories about slavery. Book includes genealogical information about numerous African American families in Knox County, Indiana before 1820. Pre-order here: https://kvml.square.site/product/pre-order-black-in-indiana-by-eunice-brewer-trotter/515?cs=true&cst=custom
Author: Michael S. Maurer
Title: The Methuselah Gene
In The Methuselah Gene, Michael S. Maurer's mesmerizing medical thriller, Alex Morton, a talented but unorthodox scientist, undertakes the care of little Jimmy Higgins who suffers from one of the rarest diseases in the world, progeria, a genetic mutation that grossly accelerates the aging process. Alex's study of progeria yields staggering discoveries about the mother of all diseases, aging. What Alex does not know is that Mother Nature jealously guards her secrets and that his newly developed therapies will lead to calamitous unintended consequences. This book will be available in October. Pre-order your copy here: https://kvml.square.site/product/pre-order-the-methuselah-gene-by-michael-s-maurer/519?cs=true&cst=custom
Author: Jim Poyser
Title: The Last Actor and Other Stories
The year is 1994, where a global pandemic called The Cold is ravaging humanity. In this alternative reality, The Cold first manifests as a cough with a rash, before descending into a miasma of mucus-filled afflictions. Cultural forms march on, however, and the entertainment industrial complex — TV, movies, sports —replaces trained actors and athletes with the novices and incompetents. "The Last Actor" features Mark Moses, the last true actor remaining on planet Earth, as he negotiates his narcissistic path toward humility and self-enlightenment. Poyser's fantastical novella, written a quarter century ago about a global pandemic, is a prescient and poignant portrayal of a culture struggling to define itself in the face of existential dread. Other stories in The Last Actor and Other Stories include bizarre tales of human overshoot, technological obsession and insatiable consumption. While wildly divergent in content, these tales all emanate from the same brain, author Jim Poyser, who considered these stories lost and forgotten to time. Pre-order your copy here: https://kvml.square.site/product/pre-order-the-last-actor-and-other-stories-by-jim-poyser/517?cs=true&cst=custom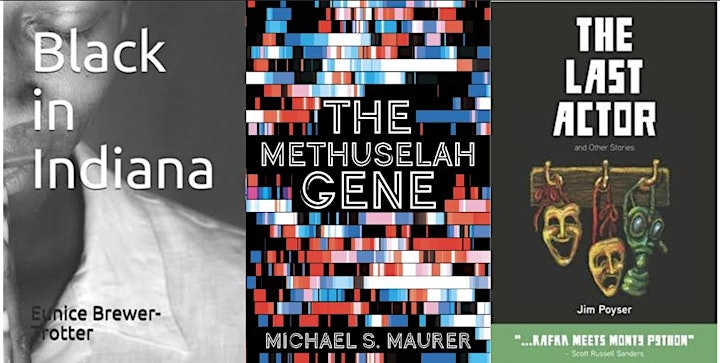 Organizer of Free Admission Day, Fall Sale, and Author Open House
The Kurt Vonnegut Museum and Library is a public-benefit, nonprofit organization championing the literary, artistic and cultural contributions of the late writer, artist and Indianapolis native Kurt Vonnegut. The library seeks to engage people in the written word — especially their own. We are in a brand new home in a historic building in downtown Indianapolis (543 Indiana Ave.), thanks to over 1,400 supporters. Learn more about us at Vonnegutlibrary.org.