Description
Free Ableton Live Crash Course
Day 1 Intro to Sample-based Music Production
Saturday, March 28th
1 pm - 4 pm
Free with RSVP
DADAGEEK VIRTUAL ACADEMY
Thank you for your interest in this workshop! This course is being offered as a dadgeek Virtual Academy course. Registered students will meet in an online classroom at the course's scheduled meeting time, Saturday, March 28th from 1-4pm. The instructors will email you more information as we get closer to the day of the workshop.
Please feel free to reach out to me at kyle@dadageek.com if you have any questions.

ABOUT THIS CLASS
dadageek is teaming up with Ableton to bring you two free days of introductory Ableton Live training! We are offering two separate training sessions on March 28th and 29th; each day having a different focus. These workshops are free and open to anyone who is interested in getting started making music with Ableton Live. Anyone can attend one or the other, or both! Spots are limited so RSVP right away!
This page is to RSVP for DAY 1 (Saturday, March 28th). You can find DAY 2 (Sunday, March 29th) here
The day 1 workshop is designed as an introductory crash course into working with Ableton Live with a focus on sample-based music production. Ableton Certified Trainer Adam Fangsrud (Flatliner, Kro) and Max for Live guru Nate Crepeault (aka Deferlow) will guide attendees through all the introductory steps to get up-and-running within Ableton Live. By the end of the workshop, students can expect to understand the unique workflows made possible by Ableton Live, including drum racks, instrument racks, warping, moving between Session and Arrangement view, and more.
Spots are limited so we ask for only dedicated signups, please.
WHAT YOU WILL LEARN
Recording and importing audio

Slicing and warping

Sampling and MIDI

Effects processing techniques
Additionally, advanced methods will also be demonstrated such as
Max for Live tools

Buffer manipulation

Live looping techniques

Advanced sequencing
ABOUT ABLETON LIVE
Ableton Live is fast, fluid and flexible software for music creation and performance. It comes with effects, instruments, sounds and all kinds of creative features—everything you need to make any kind of music. Create in a traditional linear arrangement, or improvise without the constraints of a timeline in Live's Session View. Move freely between musical elements and play with ideas, without stopping the music and without breaking your flow.
www.ableton.com
REQUIREMENTS




---
MEET YOUR INSTRUCTORS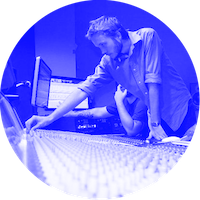 Adam Fangsrud is an electronic musician, audio engineer, and Ableton Certified Trainer. He is the owner and head engineer at Red Sun Mastering and plays in the retro synth-duo Flatliner (Holodeck Records) as well as the solo hardware techno project Kro. He is also a sound designer specializing in generative music, with an emphasis on evolutionary computing, artificial life, and genetic algorithms. Adam is a co-organizer of the Austin Ableton User Group and can often be found lecturing at Ableton related events and meetups.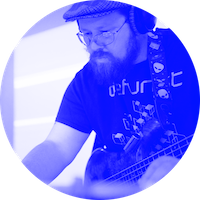 Nathan Crepeault, a graduate of New York University's music theory and composition program, is an avid Max for Live user and bassist extraordinaire. He has been teaching Max for Live since his arrival from New York City in early 2011. Nate uses Max for Live to augment Live's capabilities as a live looping tool, alter the functionality of his control surfaces, and tastelessly glitch any and every sound that might come across his workstation. Find out more at https://deferlow.com/
FYI
Media Release
Please note that some events may be photographed or video recorded. If you do not want your picture or video published, you must send your request in writing to theTeam@dadageek.com immediately after registering. Otherwise, registering for this event, hereby authorizes dadaGeek to use said photos or videos on social media or in future promotional materials.