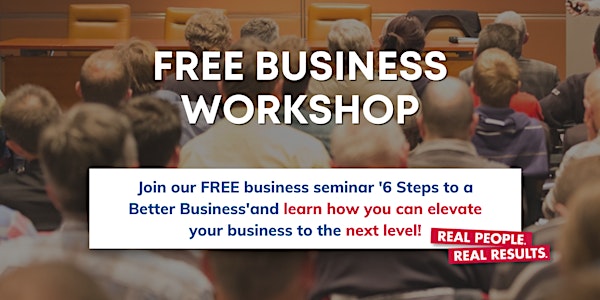 FREE 6-Step Award Winning Workshop
Make your business work so that you don't have to. Discover the best strategies to unlock potential growth, and increase profitability!
When and where
Location
Northwood Business Campus Suite 9, Northwood House Dublin Ireland
About this event
During this event, you'll learn what our 6 Steps can do for you and your business, including simple, fast, and easy ways to increase sales and profits, free up your time, and create an amazing team!
During the seminar, we will give you the chance to step out of your business and get focused. You'll learn the most powerful business secret. ActionCOACH Ireland is ready to share loads of value. You will walk away with the knowledge and strategies you can implement into your business the very next day.
Get more done in less time - At ActionCOACH we call this 'leverage' or achieving ever more with ever less. We will be showing you strategies and proven techniques to enable you to spend more time working ON your business rather than working IN your business.
Here's What You'll Get at this Event:
1. FREE 6-Step Proven Methodology - a proven and progressive, step-by-step approach that helps clarify your business objectives and produces consistent profits over time.
2. FREE Business Planning & Goal setting - How to reset your business goals after the lockdown and plan for growth?
3. FREE Financial Tools to help guide your decision making - Also how to develop your cashflow forecasts, key KPIs and digital accounting to maximise your decision making.
4. FREE Marketing Tools - Learn how you can apply effective lead generation strategies and conversion tools.
5. FREE Business Diagnostic and Strategy Session for your business!
If you are like most business owners and want to find and keep good people on your team, then this seminar is for you. Join us in this power-packed workshop where you'll learn how other business owners are building dream teams through ActionCOACH.