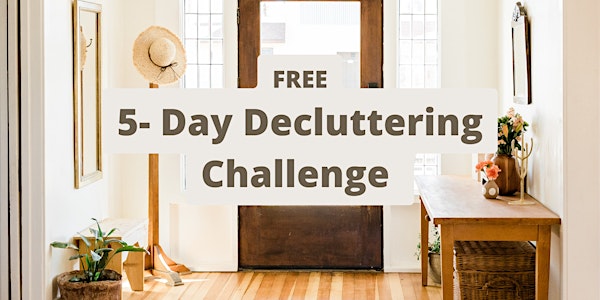 Free 5- Day Decluttering Challenge
Declutter4Life and Success (5 Day Declutter Challenge)
About this event
There is an endless cycle formed between physical and mental clutter. The more disorganized your mind, the more disorganized your home, workspace, and life in general will become.
When you're living and working in a cluttered environment, it's inevitable that your mind will become cluttered and disorganized too. The vicious circle leads to ongoing problems as you lack the ability to break the chain, get rid of the mess and take your life back.
Don't wait until the new year...
💪 Now is the time to tackle that cluttered desk, pile of paperwork before tax season.
💪 Now is the time to get rid of that clutter so you have more clarity and focus in your business.
💪Now is the time to carve out a spa like sanctuary out of your bedroom or reading nook space in your living room.
Join this 5- Day Challenge where you'll discover a 5-Step Framework for eliminating clutter.
DISCOVER:
💪 How clutter impacts your life,
💪 How to organize your space for greater productivity
💪 How to get back control of your life 
You will:
💪 Walk away with a proven formula that works
💪 Take your life and business to the next level!
💪 Discover a Step by Step framework for a less-cluttered life.
+++++++
I'm Aldreama Harper, I'm a Certified Organizational Specialist and Declutter Coach.
I help Solopreneurs implement strategies related to productivity, time management and organization. With my signature frame work my clients see higher levels of productivity, capacity, and growth.
"The Critical Difference Between Struggling Entrepreneurs And Successful Small Business Owners, Simply put...it's organization." ~Aldreama
For more on getting organized, managing time, and staying productive subscribe to the #OrganizedPreneur podcast here: http://organizedpreneurpodcast.com