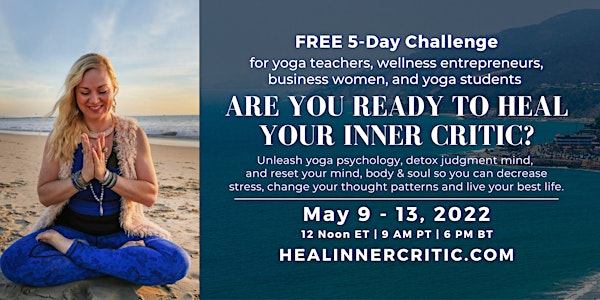 Free 5 Day Challenge Heal Your Inner Critics - Yoga Psychology & Meditation
Take a journey through women's top 4 inner critics so you can heal inside and out with yoga psychology, neuroscience, meditation, breathwork
About this event
FREE 5-Day Challenge
Take a journey through women's top 4 inner critics so you can heal inside and out with yoga psychology, neuroscience, meditation, breathwork
for yoga teachers, wellness entrepreneurs,
business women, and yoga students
ARE YOU READY TO HEAL YOUR INNER CRITIC?
Unleash yoga psychology, detox your judgment mind, and reset your mind, body & soul so you can decrease stress, change your thought patterns and live your best life.
May 9 - 13, 2022
12 Noon ET | 9 AM PT | 6 PM BT
REGISTER HERE
https://healinnercritic.com/
Take a journey through women's top 4 inner critics so you can heal inside and out with yoga psychology, neuroscience, meditation, breathwork, and mindfulness practices!
Inspired by May Mental Health Awareness Month & my personal Los Angeles yoga immersion healing journey
During this FREE 5-Day Challenge you will:
Identify the root cause of unhealthy patterns and release controlling expectations so you can let go of your Perfectionist Inner Critic and begin the healing process.
Discover a unique roadmap that will guide you through cultivating a daily Sadhana self-care practice to prevent burnout and retrain your TaskMaster Inner Critic Mind.
Connect to your authentic self at your core and soul so you can release the Comparison Conformist Inner Critic and live in your soul's alignment for a purpose-driven life.
Embrace the empowered warrior healing journey with group coaching as you identify your wounds so you can take back your power and create lasting change.
Embody a daily self-care practice of yoga, meditation, mindfulness, and breathwork that supercharges your brain so you can develop healthy life-long stress & emotional resilience skills.
Master your mind, body, and soul with the WiseMind Meditation Method™ so you can transform self-sabotage toxic thoughts into mindful self-compassion and create a legacy of peace and calm in the chaos.
$1997 Value YOURS for FREE!
READY TO HEAL YOUR INNER CRITIC?
REGISTER HERE
https://healinnercritic.com/
Healing Outside In & Inside Out!
It's time to CHOOSE our thoughts & emotions to CHANGE how we speak to ourselves!
Recover from 2 Years of Collective Global Trauma and Mental Health Challenges.
Restore & Renew
Take Back Your Power
Come as you are IN UNITY…
JUDGMENT DETOX harsh inner mean girl
TRANSFORM to gentle mindful self-compassion.
LETTING GO of depression, anxiety, and stress!
We are all doing the best we can.
Walk away from this Yoga for Mental Health challenge feeling excited, motivated, and empowered to move towards your transformation!
This Challenge Is For...
Yoga Teachers & Wellness Coaches who want to deepen their toolbox and grow their business.
Professionals, Entrepreneurs & All-Level Students going through a life transition.
To learn more about what we are covering daily go to: www.healinnercritic.com
Day 1 - Heal Self Sabotage, Control Freak, & Perfectionist Inner Critic
Shadow & Soul Work of Perfectionism + Inner Mean Girl - "I AM NOT Enough"
Day 2 - Detox & Take Power Back Imposter Syndrome Underminer Inner Critic
Shadow & Soul Work of Imposter Syndrome + Self Doubt - "Who do you think you are?"
Day 3 - Release Burnout & Task Master Inner Critic
Shadow & Soul Work of the Overachiever & Stress Habit -"You NEVER do Enough!"
Day 4 - Transform Conformist Inner Critic & Comparison of Women
Shadow & Soul Work of Comparison & Self + Others Judgment Detox - "My gifts & voice are not needed!"
Day 5 - Yoga Psychology Roadmap
WiseMind Heal Detox Transform Method Roadmap & Guest Interview
READY TO HEAL YOUR INNER CRITIC?
REGISTER HERE
https://healinnercritic.com/