Sales Have Ended
Registrations are closed
Congratulations on getting a seat for this sponsored free course! The class will last 4 weeks and will be taught by a certified Instructor. You'll receive a reminder and welcome from your Instructor a week prior to the class! As mentioned, you'll need to cover only your materials. Our free course uses the TC Tech ACT and SAT Prep Book Set. The book set includes a book and online practice software that is used for testing and interactive practice in the class. You can get both sets (ACT and SAT) or just the set for the test you plan on focusing the most on. ACT Book Set: ($49.95 for both materials) http://tctechprep.com/course/actprepbookcombo SAT Book Set: ($49.95 for both materials) http://tctechprep.com/course/satprepbookcombo **Once you order, you will pick up your books on the first day of class for free shipping. ** Since we use a combination of practice software and your book is how we speed up the process of pushing up your score, we recommend for you to bring a tablet or laptop to class. If you will not have a tablet or laptop available, please let us know and we'll have one available for you to borrow during class. Please order your bookset right away so that we know are you coming. The free class often gains a waitlist. We'll see you in September! Thanks, Your Instruction Team
Event Information
Location
Central Library
10 W 14th Ave Parkway
Specific meeting area will be emailed.
Denver, Colorado 80202
Sales Have Ended
Registrations are closed
Congratulations on getting a seat for this sponsored free course! The class will last 4 weeks and will be taught by a certified Instructor. You'll receive a reminder and welcome from your Instructor a week prior to the class! As mentioned, you'll need to cover only your materials. Our free course uses the TC Tech ACT and SAT Prep Book Set. The book set includes a book and online practice software that is used for testing and interactive practice in the class. You can get both sets (ACT and SAT) or just the set for the test you plan on focusing the most on. ACT Book Set: ($49.95 for both materials) http://tctechprep.com/course/actprepbookcombo SAT Book Set: ($49.95 for both materials) http://tctechprep.com/course/satprepbookcombo **Once you order, you will pick up your books on the first day of class for free shipping. ** Since we use a combination of practice software and your book is how we speed up the process of pushing up your score, we recommend for you to bring a tablet or laptop to class. If you will not have a tablet or laptop available, please let us know and we'll have one available for you to borrow during class. Please order your bookset right away so that we know are you coming. The free class often gains a waitlist. We'll see you in September! Thanks, Your Instruction Team
Description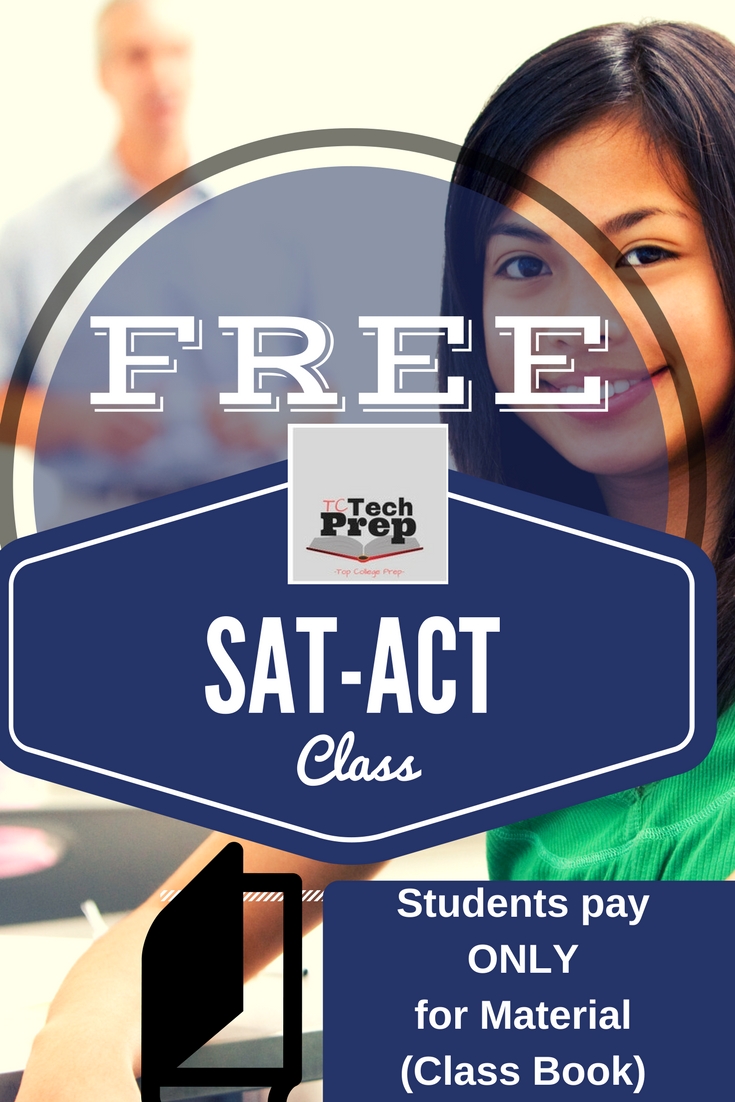 This FREE *4 Week ACT-SAT Class (not including materials) is held on Saturdays from 9/16 to 10/7. Upon starting on any of those dates- 4 weeks of Instruction will be provided, so please only register for one start date. Class sessions are held from 12:00 p.m. -2:00 p.m.

Each class is limited to just 25 PARTICIPANTS and includes the following:
Find out which test is best for you to take (The SAT or ACT)
Pinpoint your weak areas for targeted study
Our experts will help you create a targeted study plan that helps you boost points faster than general studying!
-Test Strategy Tips on each Test Subject taught by Certified Instructors:
Learn shortcuts, and proven strategies to boost your score in each subject!
- Final Administered Full Length Practice Test:
Find out how the class helped you and get practice for the real thing by taking an administered full length practice test on the final day of class
This class is valued at $550. Take it for free- thanks to our sponsored locations and the TC Tech Prep bookline!
*Materials are not included
This class is sponsored in part by TC Tech Prep, the provider of the class's excellent diagnostic manuals, e-workbook and final testing material and Instruction. You will receive an email to give you options to purchase the class material prior to the start of class.
Date and Time
Location
Central Library
10 W 14th Ave Parkway
Specific meeting area will be emailed.
Denver, Colorado 80202