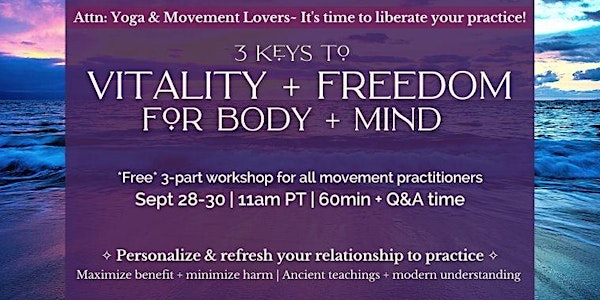 *Free* 3 Keys to Vitality + Freedom for Body + Mind
Learn 3 key concepts -that almost no one is talking about- to keep movement practice enjoyable, inspiring & good for you for life!
About this event
*Note: This is a *Free* 3-part workshop over 3 days*
**UPDATE! We're adding a 4th session as a focused movement practice - Saturday 10/1 @ 9am PT**
Attn: Yoga & movement lovers, athletes, dancers, fitness experts, pilates practitioners, and all humans wanting to move better, for longer, with more freedom & less pain.
Have you dealt with nagging aches or injuries, tightness or tension that seems to linger no matter what you do?
Does your embodied practice refresh, inspire & nourish your body+mind+heart like it used to?
Have you felt unmotivated and wanting more creative ways to tune into your body's needs?
I know how it feels.
Years ago I was teaching others yoga & movement while feeling like my own body was breaking down. Along with it, my heart was shattering & my mental health was unravelling. Now, in my 40's, I have more vitality, confidence, purpose & inner balance than I have ever in my life.
I'm passionate about sharing what I learned that transformed my life in this *Free* workshop!
You'll learn 3 key concepts merging ancient wisdom with modern science to keep your practice enjoyable, sustainable & personalized for life!
DAY 1 | Embodiment is Everything: how science is unfolding the mystery of the intricate relationships of body-mind-heart-soul, and how our physical being-ness impacts our mental/emotional state
DAY 2 | Made to Move: how to move well, longer, with more ease, less pain, and why variety is the secret ingredient to longevity
DAY 3 | Yoga as a Living Tradition: a look at why yoga has become so popular, science of how it works, appreciation of yoga's philosophy, cultural context & modern evolution of movement as meditation
Extra Session: Movement for Vitality + Freedom practice Saturday 10/1 @ 9am PT
There will be movement, meditation, learning, play, Q&A, & even PRIZES :))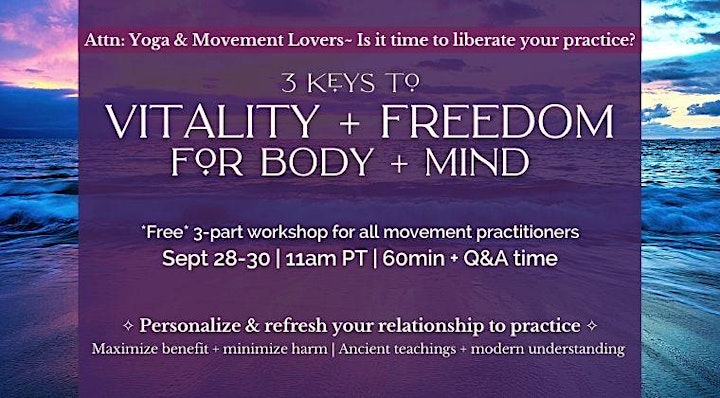 This workshop is for you if:
You love movement practice & want to stay inspired & deepen your practice for life.
You know yoga is more than just the physical & want to understand why the physical practices help us feel so good - inside & out.
You're tired of the same old thing & want permission to get creative and play 'outside the box'.
You want to learn the best ways to transform stress (backed by both tradition & evidence!).
You want your practice to train good, healing movement patterns that support living with vitality + freedom for life.
You know that when you're at your best, you're able to make the most positive impact in your life, on your community & in the world.
Be part of the movement Movement!
Embodied practices are some of the best ways we can build strength, vitality, balance & resilience inside & out - in body & mind - physical, mental & emotional.
*Modern postural yoga has been a gateway for this understanding to reach the mainstream - AND the standard forms of asana & vinyasa are just the beginning.*
These tools are becoming more & more valuable in our rapidly changing world. Help lead the way to more prescriptive, personalized & powerful embodied practice as part of building a more resilient, connected, and beautiful world.
I can't wait to share this life-changing information with you!
*Please RSVP to secure your spot, and then check your email for event info!*
See you there,
Michelle Nayeli