Description
[FREE 3-Hour Facebook Marketing Masterclass By Alaric Ong, Founder of SG's Largest Facebook Marketing Mentorship Community]
Cost: FREE (Only For The First 20)
______
WHO IS THIS FACEBOOK MARKETING MASTERCLASS FOR?
1) People who have SOMETHING to market: salespeople, entrepreneurs, business owners, consultants, coaches, insurance/property agents, MLM, network marketing & direct sales personnel, etc...
2) People who have NOTHING to market, but want to get started: students, NSFs, working adults, aspiring entrepreneurs, people who have an idea to share with the world, etc...
3) Employees looking for a way OUT of the "9-5" rat race by mastering a HIGH-INCOME SKILL that will allow you to generate a side, or even full-time income easily... WITHOUT a job, or a "stinky" boss (if you have one now)
WHAT PAST PARTICIPANTS HAD TO SAY ABOUT ALARIC...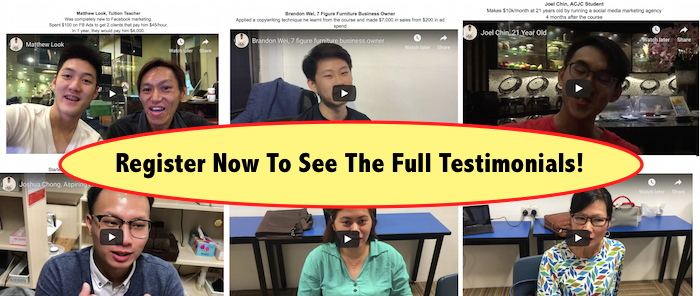 __________
What You Will Acquire By The End Of The 3-Hour LIVE Masterclass:
1. If you ALREADY have a business...
How to leverage the power of Facebook Marketing to generate a UNLIMTED amount of leads, customers, and sales for any business so you can grow at any pace you want
How to use Facebook Marketing to build, grow and scale a business to literally 5, 6, 7-figures in sales and beyond, even if you have zero marketing, or think you "suck at technology" right now
The ONE "cheat-code" to launching ultra profitable, winning facebook advertisements that will effortlessly grab online attention rapidly, and magnetically attract high-quality, raving prospects who want to do business with you, or buy your stuff
The "ALMOST-ILLEGAL"... legitimate hack used by big companies, and top marketers worldwide to ETHICALLY spy on their competitors winning advertisements and model what is already working so their success is virtually guaranteed...
2. If you DON'T already have a business (you'll learn ALL of the above, PLUS...)
Why the best "high-income skill" to master right now is Facebook Marketing, and how you can literally quit your "9-5" and get out of the rat race in months (or even weeks) if you understood how EASY the formula to making money with Facebook actually is...
How to get past the "age" excuses, and other toxic limiting belief once and for all... too young too old, too fast, too slow, no education qualifications, and use whatever other weaknesses you think you have, to your ABSOLUTE ADVANTAGE.... (yes, it's 100% possible and this is not some "woo-woo" motivation stuff, we'll show you how this mindset shift translates to making MONEY immediately)
The 3 Untold And Untapped Secrets to using Facebook Marketing to start ANY business and be successful (profitable) in literally weeks, or even days EVEN if you don't have any track record, testimonial or the years of experience that your existing competitors have...
The Facebook Monetisation Formula on how to effectively convert attention from Facebook Advertisements into cold, hard cash in less than 48 hours... so that you can "rinse & repeat" the process systematically to create an income, and lifestyle you truly desire
The ONE paradigm shift you need to make immediately to set FREE the mental barrier of slogging for an hourly rate (exchanging time for money) to easily making an excess of $10-,000-$15,000/month or more with Facebook Marketing, even if you have nothing to market right now.
IMPORTANT NOTE: If you do not have an existing business, do NOT be worried a bit as we'll be giving you a ton of proven business models to choose from and begin with.
Fun Fact: About 60% of people who attend our training are complete beginners who do NOT have something to market yet.
---
WHAT CAN YOU EXPECT BY THE END OF THESE 3-HOURS?
By the end of these 3 hours, you'll have the COMPLETE roadmap on how you can build your first high-income skill in life that will make you a minimum of $100,000 a year and beyond... so you NEVER have to settle for an ordinary "9-5", or get stuck with a boss that you really wouldn't risk saving in a fire.
For those of you who already have an existing business, you'll walk out with complete clarity on how to take your business to the next level with Facebook marketing, and add on multiple 5-figures in your top-line revenue just in the next 30 days, or sooner!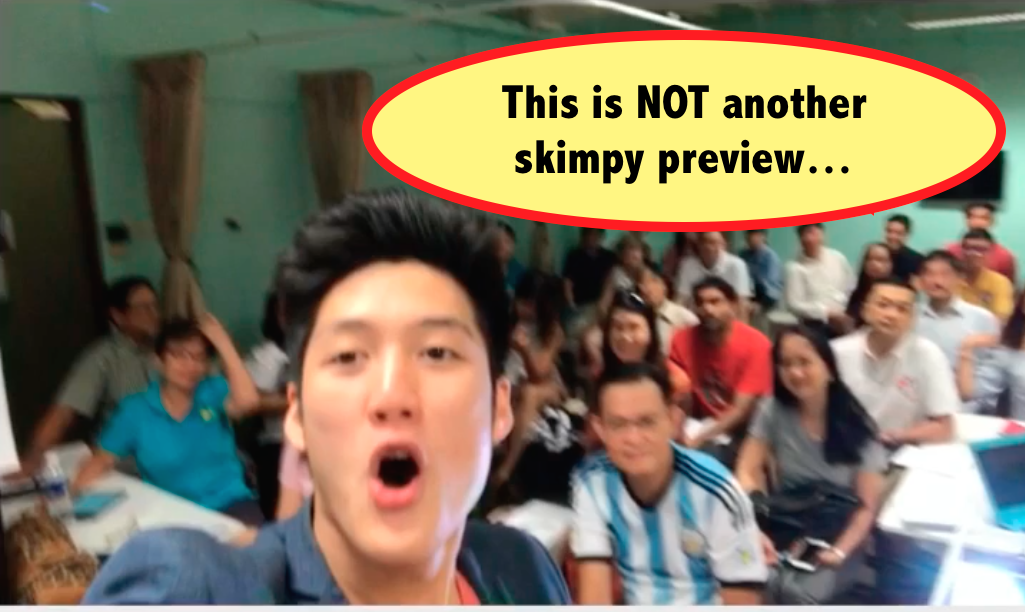 IMPORTANT NOTE: This is NOT another sale-sy, skimpy tease-sy preview. We DIVE DEEP into the good stuff, showing you proven strategies that you can implement immediately during the training itself.
_______
WHAT PARTICIPANTS HAD TO SAY ABOUT ALARIC...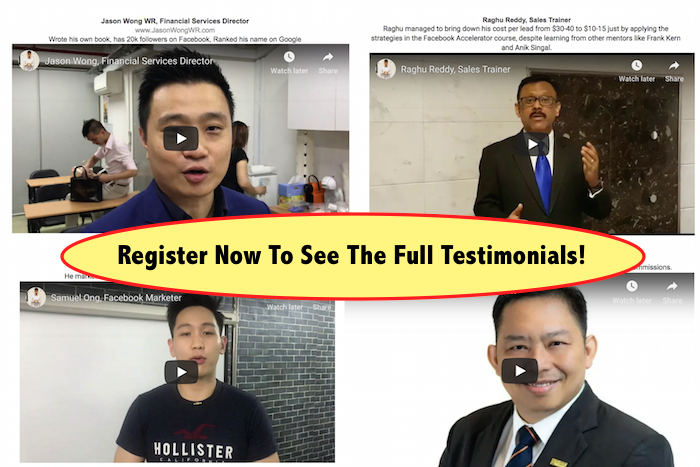 [NOTE: THESE MAY BE OUR LAST FEW FREE MASTERCLASSES...]
... PURELY because of the value we bring in our FREE masterclasses, our sessions are always fully booked in advance every time we put out a new date. Our last 7 classes were full-houses, and we do NOT accept any more students once we've met capacity, to ensure a conducive masterclass environment for each and every of the hungry learner who has invested their full 3 hours to be with us.
If that's YOU, tap on the "Select A Date" button now to see if you're still in time to grab a seat at our next (very likely, last) masterclass - we'll see you soon!