Description
[3-Hour Facebook Marketing Masterclass 2.0 - Proven Strategies That Has Worked In Over 50 Industries/Niches)
For HARDCORE proof of Alaric Ong's student's results...
Cost: FREE (Only For The First 20 Participants To Register!)
---
From The Desk From Alaric Ong, Singapore's #1 Facebook Trainer...
After having trained over 1000+ students across 50 industries/niches, for the first time ever - I've decided to do a Facebook Marketing Masterclass 2.0 where I reveal how Facebook Marketing can work for ANY business...
---
WHO IS THIS MASTERCLASS 2.0 FOR?
1) People who already have SOMETHING to market: salespeople, entrepreneurs, business owners, consultants, coaches, insurance/property agents, MLM, network marketing & direct sales personnel, etc...
2) People who have NOTHING to market, but want to get started: students, NSFs, working adults, aspiring entrepreneurs, people who have an idea to share with the world, etc...
3) Employees looking for a way OUT of the "9-5" rat race by mastering a HIGH-INCOME SKILL that will allow you to generate side, or even full-time income easily... WITHOUT a job, or a "stinky" boss (if you have one now)
---
Over 2,500++ Participants Have Attended Our Training In Just 2019 Alone!
__________
What You Will Learn By The End Of The 3-Hour LIVE Masterclass:
1. If you ALREADY have a business...
The F.R.E.E. Facebook Prospecting formula to generate 3 - 5 sales appointments or any other form of sales opportunities for FREE.. WITHOUT a single cent on advertisements (... this is NOT taught by anyone else in the market currently!)
The 3 Secrets of Facebook Marketing to generate an UNLIMITED amount of leads, customers, and sales for any business so you can grow at any pace you want
How to use Facebook Marketing to build, grow and scale a business to literally 5, 6, 7-figures in sales and beyond, even if you have zero marketing, or think you "suck" at technology/IT
The ONE Facebook Branding "Hack" to instantly establish yourself as a "celebrity authority" so that customers come to you instead of you chasing them... WITHOUT having to spend hours creating endless content, videos or even blog posts
The ONE litte-known "cheat code" to launching ultra profitable, winning facebook advertisements that will effortlessly grab online attention rapidly, and magnetically attract high-quality, raving prospects who want to do business with you, or buy your stuff
The "ALMOST-ILLEGAL"... but completely legitimate hack used by big companies, and top marketers worldwide to ETHICALLY spy on their competitors winning advertisements and model what is already working so their success is virtually guaranteed...
2. If you DON'T have a business yet (you'll learn ALL of the above, PLUS...)
Why the best "high-income skill" to master right now is Facebook Marketing, and how you can literally quit your "9-5" and get out of the rat race in months (or even weeks) if you understood how EASY the formula to making money with Facebook actually is...
The 3 Untold And Untapped Secrets to using Facebook Marketing to start ANY business and be successful (profitable) in literally weeks, or even days EVEN if you don't have any track record, testimonial or the years of experience that your existing competitors have...
The Facebook Monetisation Formula on how to effectively convert attention from Facebook Advertisements into cold, hard cash in less than 48 hours... so that you can "rinse & repeat" the process systematically to create an income, and lifestyle you truly desire
The ONE paradigm shift you need to make immediately to set FREE the mental barrier of slogging for an hourly rate (exchanging time for money) to easily making an excess of $10-,000-$15,000/month or more with Facebook Marketing, even if you have nothing to market right now.
IMPORTANT NOTE: If you do not have an existing business, do NOT be worried a bit as we'll be giving you a ton of proven business models to choose from and begin with. Fun Fact: 60% of the class are usually complete beginners who do NOT have something to market yet.
---
WHAT CAN YOU EXPECT BY THE END OF THESE 3-HOURS?
By the end of these 3 hours, you'll have the COMPLETE roadmap on how you can build your first high-income skill in life that will make you a minimum of $100,000 a year and beyond... so you NEVER have to settle for an ordinary "9-5"...
If you already have an existing business or product/service to sell, you'll have complete clarity on how to take your business to the next level with Facebook marketing, and add on multiple 5-figures in your top-line revenue just in the next 30 days, or sooner!
-
IMPORTANT NOTE: This is NOT another sale-sy, skimpy tease-sy preview. We DIVE DEEP into the good stuff, showing you proven strategies that you can implement immediately during the training itself.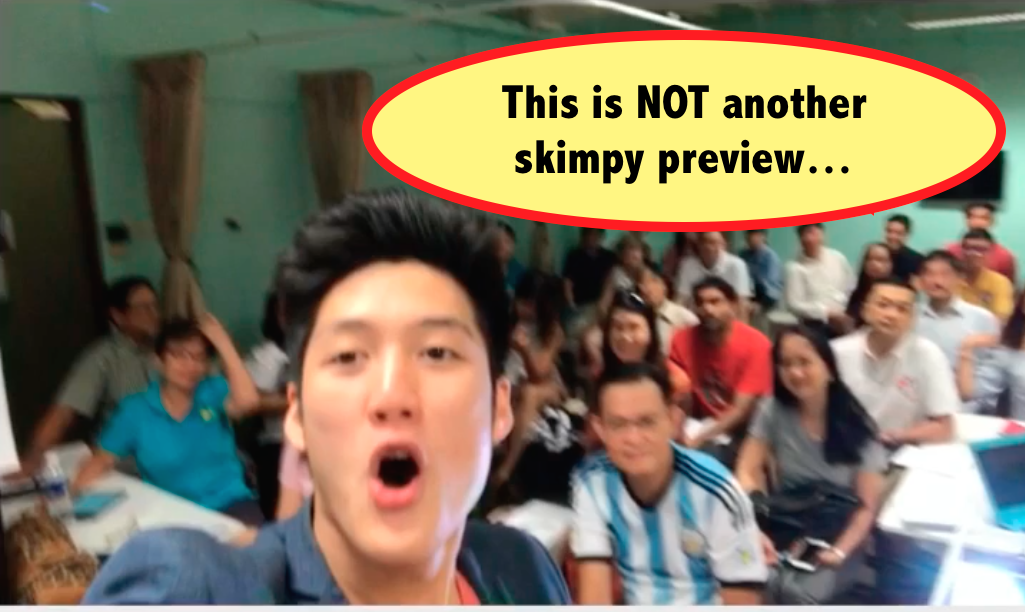 _______
WHAT PARTICIPANTS HAD TO SAY ABOUT ALARIC...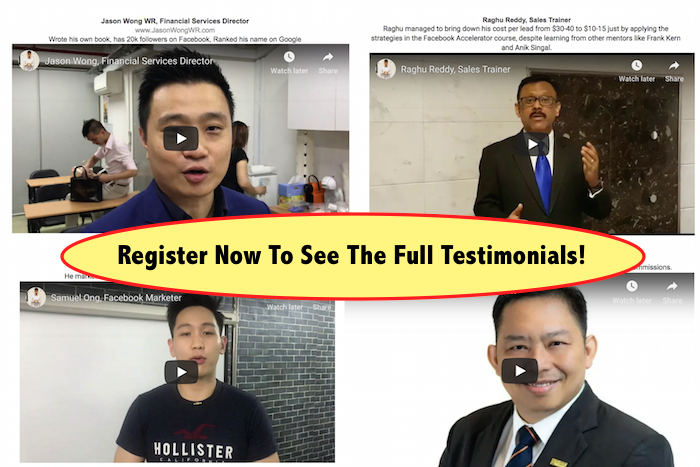 [NOTE: FREE SLOTS ARE NOT GUARANTEED - SIGN UP NOW]
... PURELY because of the value we bring in our FREE masterclasses, our sessions are always fully booked in advance every time we put out a new date. We can only take 20 free students per class.
If that's YOU, tap on the "Select A Date" button now to check out the dates and grab yourself a seat!
-
PS: If you're like me and scrolled all the way to the bottom, here's a quick summary...
For the FIRST time ever, Alaric is conducting a Facebook Marketing Masterclass 2.0 where he will reveal his heavily-guarded Facebook Marketing strategies that can work for ANY business.
Alaric charges anywhere from $2,000 - $10,000 to do a live training like this, but you will get it all for FREE.
Why? Because he believes in giving value in advance so that you may or may not work with us sometime to in the future. BUT... the "catch" is that due to the capacity limit, we can only take in 20 students for free per class. So, if that's YOU - click on "Register" to grab a slot now!
-
IMPORTANT: If you are unsure about learning for free, please do NOT sign up. If you sign up, please be sure to put it down on your calendar and show up on time. ALL no-shows will be blacklisted and banned forever (and ever) from attending any of our free (or paid) events.