FREE 3-Hour Facebook Marketing Masterclass For Financial Advisers (Malaysia...
Description
... Singapore's #1 Facebook Marketing Training, Alaric Ong, Is Coming To Malaysia For The First Time Ever!
-
Alaric has trained hundreds of business owners, salespeople, and financial advisers in Singapore. For the first time ever, we're coming to Malaysia to teach Facebook Marketing to the advisers here!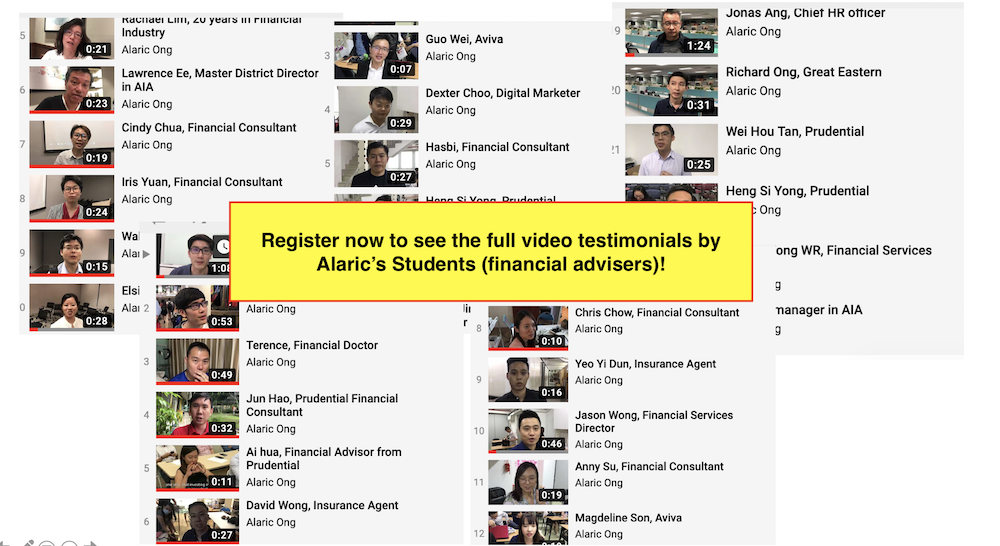 -
Who Is This FREE Facebook Marketing Masterclass For?
1) Financial Advisers who are ALREADY using Facebook marketing - whether you're doing it yourself, paying for leads or getting a vendor to run advertisements for you...
2) Financial Advisers who are NOT already using facebook marketing - maybe you've been exploring for options, looking around or heard of your colleagues doing well with the "facebook thing"
3) Financial Advisers who are SICK & TIRED of traditional prospecting methods and want a BETTER, FASTER way of getting insurance leads (NO MORE... roadshow, door knocks, street canvassing, telemarketing, cold-calling, networking events, referrals, "squeezing" the last bits of your warm market and skeptical friends
-
What You'll Discover Just By Investing 3 Hours...
Note: The strategies shared in this masterclass are tailored for the insurance industry in Malaysia, and will work both for insurance sales, and insurance recruitment.
Our proprietary "FREE Facebook Prospecting" System (including the actual scripts) for you to set 3 - 5 sales appointments per day so that you no longer have to cold-call, do roadshows or prospect in real life where the rejection rate can be sky-high (... hint: there's a much easier way to get people's attention through social media)
How to use Facebook Marketing to get an UNLIMITED amount of leads, sales, and customers for your insurance business... WITHOUT having to waste precious hours aimlessly creating content, have a huge budget or even be at the mercy of external vendors or "rip-off" marketing agencies
The 2 Social Media Hacks that a small group of financial advisors in Malaysia has been using to properly Brand & Position themselves so that their prospects will come to them, instead of them having to constantly chase for customers
The 1 Untold Truth about why becoming an MDRT, COT... or even TOT adviser has very little to do with "working hard at prospecting", and how to AUTOMATE 95% of your lead generation work so you never ever have to go out to 'hunt' for prospects again (so that you can spend most of your time closing, and servicing your customers)
The 3 Secrets to Creating, Launching Highly Converting Facebook Advertisements to sell your insurance products/services in under 5 minutes with just your smartphone... (we'll even give you the EXACT templates that you can ethically "steal" from us and implement your insurance business immediately!)
(This is not just a theory training, we'll even give you the step-by-step plan to start getting results immediately after this free training session.)
The 7-Day Implementation Game Plan on how ANY financial advisor (even brand new) can make use of simple, proven, ultra-effective online marketing 'hacks' to instantly JUMP your way to the top of your team's sales scoreboard and remain there CONSISTENTLY... without having to do any cold-calls or prospecting
The "Facebook Advertising Investment Formula" on how to make sure your facebook advertisements pay for ITSELF over and over again, with the sales commissions you can generate from it... so you never have to spend a single cent of your own money on marketing (the best marketers NEVER ever use their own money, they re-invest their profits)
The "Ultimate Scaling Formula" on how to use Facebook Marketing to scale your insurance business 2-10X faster than your competitors by leveraging on advanced Facebook Marketing techniques that very few financial advisers know about, and know enough to actually implement at the speed that our students have been able to.
What Can You Expect By The End Of 3 Hours...
By the end of these 3 hours, you'll have the COMPLETE roadmap on how you can use "Facebook Prospecting" & "Facebook Marketing" to generate an UNLIMITED amount of leads for both sales and recruitment... so you'll NEVER have to spend another day in your life doing another roadshow, cold-calling, prospecting ever again!
-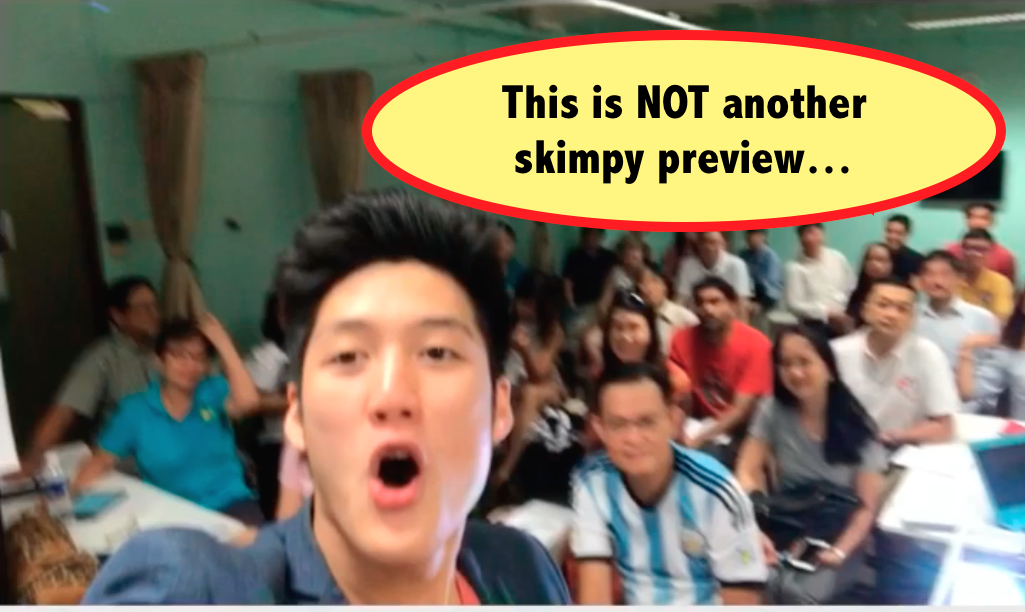 PS: Know of some events where they just try to "sell" you every minute you're seated without actually teaching anything useful that you can implement right away during or after the training...?
This is NOT one of them. We respect your time invested and have made every effort to pack real value in this FREE training. From the get-go, we DIVE DEEP into the good stuff and teach you proven strategies for the insurance market that you can implement immediately during, or after the training.
-
FREE Slots are only limited to the first 20 people to sign up, click on "Register" now!