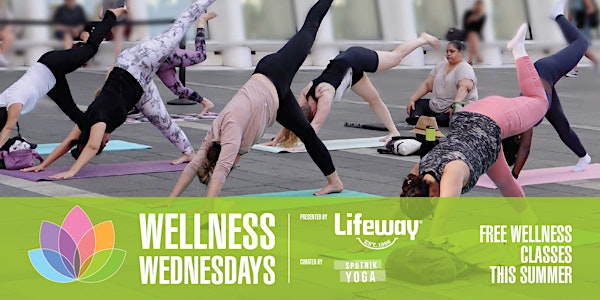 Multiple dates
FREE 2023 Wellness Wednesdays, presented by Lifeway Foods
Curated by Sputnik Yoga, Wellness Wednesdays will offer a variety of FREE fitness and wellness themed classes on a weekly basis.
Date and time
May 3 · 5:30pm - October 25 · 6:30pm EDT
Location
North Oculus Plaza 50 Church Street New York, NY 10006
About this event
Sponsored by Lifeway Foods, Wellness Wednesdays: Sputnik Yoga will offer a variety of free yoga & fitness classes to make wellness and mindfulness more accessible to all.
Lifeway kefir is a probiotic dairy beverage. It balances a healthy gut microbiome, which may help maintain and increase serotonin levels – the key hormone that stabilizes our mood, feelings of well-being, and happiness.
By engaging in the practice of yoga, and nourishing the body with kefir, an ancient probiotic superfood, this unique collaboration is a great way to strengthen the mind-gut connection.
Classes will be on select Wednesdays between May 3 - October 25, from 5:30pm to 6:30pm on North Oculus Plaza.
Bring your own yoga mat or blanket.
Learn more about additional Wellness Wednesday events: officialworldtradecenter.com/wellness
For directions to Oculus Plaza, click here: officialworldtradecenter.com/gettinghere
Classes are WEATHER CONTINGENT.
Class Descriptions/Dates:
Sputnik Flow: An invigorating and accessible vinyasa yoga experience suitable for all levels. Confirmed Dates: May 3, May 10, June 7, July 19, August 16, August 23, September 6, September 27, October 25
HIIT And Flow: A dynamic, all-in-one fitness class that combines cardio, strength, and flexibility exercises that creates a full-body workout. Confirmed Dates: May 24, June 14, July 12, October 11
Dance Flow: A mindful movement dance class that blends the elegance of ballet, the energy of jazz, and the fluidity of contemporary dance to create a truly captivating experience for all levels.Confirmed Dates: May 17, August 9
Guest Studios/Instructors: Partnerships with the local wellness community will bring an array of yoga, Pilates, HIIT, and other movement modalities through guest-hosted classes. Date(s) to be confirmed: October 18. Keep an eye on our website for class announcements and more information!
About the organizer
We are an iconic New York City destination that offers visitors, whether from around the block or around the world, a unique and memorable experience with every trip. Our 16-acre campus is a gateway to Lower Manhattan, New York City, and the greater New York and New Jersey region, with a mix of public spaces and parks, eateries, retailers, and office towers, plus educational and historical points of interest.