The Youth English Speech Workshop is designed to help students gain a better understanding of how to develop and deliver a public speech.
About this event
The Youth English Speech Workshop is designed to help students to learn some basic public speaking skills and gain an understanding of the judging criteria of a good speech. It also provides an opportunity for them to practice and enhance their speech skills. The 2021 Youth English Speech Contest (YESC) is hosted by the Chinese Institute of Engineer – DFW (CIE) and organized by the Texas Dragon Toastmasters Club. For over 10 years, this event has helped thousands of students improve their speech skills and build their confidence in public speaking.
This year, we are excited to host this workshop virtually to provide an educational and fun experience for children and their families. We have invited some of the best speakers from Texas Dragon Toastmasters Club to present crucial techniques in public speaking, including how to organize a speech, how to use vocal variety and body language, and much more. Afterwards, student speakers will apply these techniques with demonstrative speeches, followed by instant evaluations from experienced evaluators, including some Distinguished Toastmasters (DTM).
We will also explain the speech contest judging guidelines to prepare you for the upcoming contest on June 26,2021. (Click HERE for the contest registration and more details)
Two free online workshops will be provided via Zoom webinar:
Workshop 1 on June 12, 2021, 2:00PM-4:00PM CDT
Workshop 2 on June 19, 2021, 2:00PM-4:00PM CDT
Seats are limited! Please register ASAP!
Looking forward to your participation and having fun together!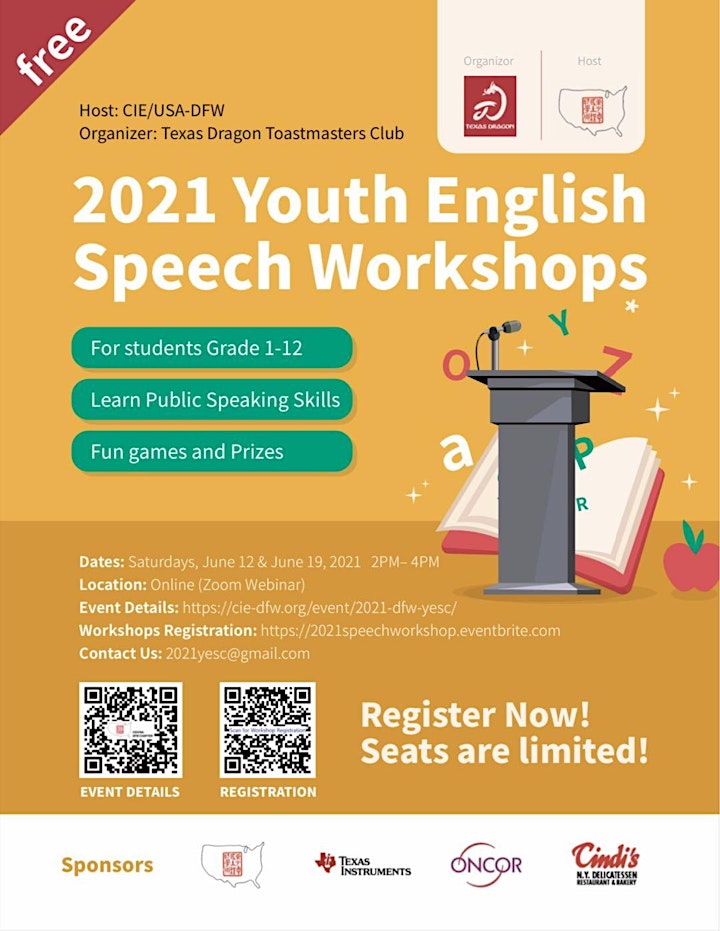 Organizer of Free! 2021 Youth English Speech Workshops