FREE 2021 DV/IPV Awareness Month - Professional Development for Clinicians
What every hospital leader and clinician needs to know about the new state mandates, how to get compliant, and the penalties.
About this event
We Work. We Rule. We Care! New York 2021
THE PLANNED IN-PERSON LIVE EVENT HAS BEEN POSTPONED UNTIL 2022 DUE TO THE ONGOING CORONAVIRUS/COVID-19 PANDEMIC.
_________________________________________________
WE WILL HOWEVER HOST THE FOLLOWING FREE VIRTUAL EVENT WITH TWO LEADING EXPERTS DETAILING THE STATEWIDE DOMESTIC VIOLENCE TRAINING MANDATES!
___________________________________
BETTER DECISION MAKING FOR VULNERABLE WOMEN AND CHILDREN.
What Every Clinician Needs to Know About the New Domestic Violence Training Laws and Mandates
Medical experts and state officials will lead an insider discussion that will prepare physicians, nurses, and social workers to meet state regulatory mandates on domestic violence training.
9 AM - Introductions/Opening Remarks
9:15 AM - Keynote Presentation/Fireside Chat with Andrea Crawford, Esq
What Every Clinician and Social Worker Needs to Know about the New Laws and Mandates in New York and Beyond.
Andrea Crawford, Esq, Associate Executive Director - Risk Management and Associate Counsel, New York City Health & Hospitals Corporation
Andrea will share her legal and insider knowledge on:
Why the new laws were put in place
What are the laws and mandates
How will these laws impact physicians, nurses, and social workers
What the laws mean for all healthcare institutions
Discuss the risk clinicians and hospitals face due to noncompliance
How these laws protect victims and improve the quality of care in all medical settings
Andrea Crawford, Esq., CPHRM has been a health care attorney for over 20 years. She began her career as a Medical Malpractice defense attorney with one of the premier defense firms in NYC. Following this, Ms. Crawford joined the New York City Law Department in the Medical Malpractice Department representing the hospitals in the New York City Health & Hospitals system. In 2004 this Division became part of New York City Health & Hospitals Claims and Litigation Division. Ms. Crawford specialized in Labor & Delivery and Mother-Baby matters. She then was responsible for negotiating settlements for the hospital system.
In 2015 Ms. Crawford became the Associate Executive Director of Risk Management in a Queens New York City Health & Hospitals facility. Here her responsibilities touch every section of the hospital where she concentrates on patient safety, equitable delivery of care, quality improvement and develops and implements educational sessions for licensed staff.
Ms. Crawford is also a community activist in her hometown in Queens, NY where she is a member, and past chairperson, of her community board, and is involved with local elected officials in managing a broad range of community based programs.
10 AM - New York State Senator Julia Salazar, Chair, Committee on Women's Issues, Committee on Crime and Correction who was instrumental in passing this healthcare law in New York to protect victims of domestic violence and to ensure all clinicians are trained ongoing. The Senator will discuss her decision to lead this bill, the importance of this bill in the New York, how NY is setting a precedent for other states, and how this bill will saves lives.
Senator Julia Salazar represents New York's 18th State Senate District, including the Brooklyn neighborhoods of Bushwick, Cypress Hills, Greenpoint, and Williamsburg, as well as parts of Bedford-Stuyvesant, Brownsville, and East New York. Upon her election in 2018, she became the youngest woman elected in the history of the New York State Senate. Senator Salazar is a strong supporter of tenant rights, criminal justice reform, equal protection for women, and immigration justice. Comprehensive Contraception Coverage Act mandating insurance companies cover all FDA-approved contraceptive drugs, devices, and products for women. Responding to concerns raised by constituents about services provided to victims of domestic violence in the health care system, Senator Salazar has also introduced bills mandating training for hospital staff regarding domestic violence and guaranteeing victims free and safe transportation home from the hospital.
Until her election to the State Senate, Julia Salazar worked as a community organizer in the neighborhoods she represents and across New York City. She began her advocacy during her time as a college student at Columbia University, where she advocated for the rights of fellow tenants and service industry workers. She worked for United Auto Workers Local 2110 to support Barnard College adjunct faculty workers in the campaign for their historic first contract. She served as a community organizer for Jews for Racial & Economic Justice, working within city-and-state-wide coalitions to advance criminal justice reform and police accountability legislation. Senator Salazar is also an active member of the National Association of Latino Elected Officials (NALEO), UAW-NWU Local 1981, and the New York City chapter of the Democratic Socialists of America.
10:30 AM - Q&A and ways to get compliant to avoid potential AMA/JCAHO penalties
Speranza Human Compassion Project has served victims of domestic violence since 2012 and currently provides intervention support and training to medical and nursing schools, universities, as well as, teaching and trauma centers in New York City and beyond. For more information visit www.speranzaproject.org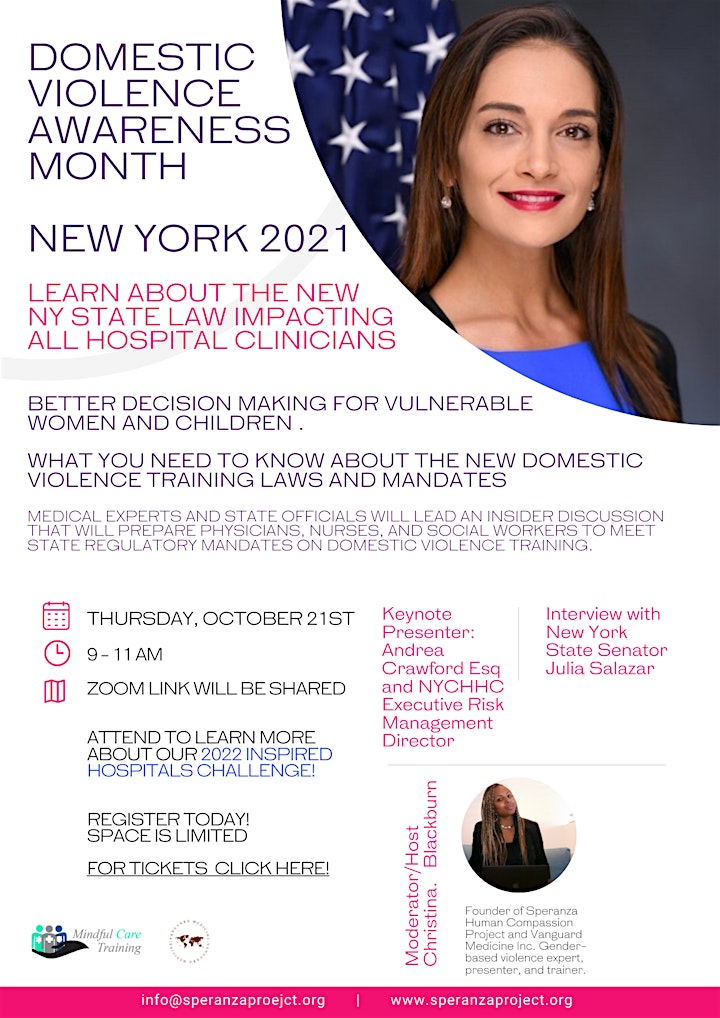 Organizer of FREE 2021 DV/IPV Awareness Month - Professional Development for Clinicians
www.speranzaproject.org - We are a collaborative of universities & organizations that conduct research and offer innovative training on violence prevention and compassion care for vulnerable women and children.
Speranza Human Compassion Project partners with university and hospitals to create innovative solutions to intervene in gender-based and intimate partner violence. We actively working to increase the knowledge of providers in acute care settings by providing new learning opportunities, disseminating new research, facilitating in-person conferences, and virtual/web-based seminars.
Tools and strategies taught are designed to support vulnerable patients by educating practitioners within their scope of expertise to increase quality patient care for vulnerable women and children and fill the gap in medical education.
Speranza Human Compassion Project policy on diversity and inclusion Speranza is deeply committed to diversity, equity, and inclusion in all aspects of our business so that we can best serve the vulnerable public, our staff, and our members. Our goal is to mirror the growing diversity of the communities we serve and to promote an understanding of their varied needs. To this end, we are committed to actively promoting and maintaining diversity and inclusion in our membership, leadership, and organization, and educating our members regarding the value of diversity and inclusion. This commitment embraces the value of the many areas of our profession, and the value of our members' and their clients' varied backgrounds, including but not limited to race; ethnicity; physical and mental abilities; gender; sexual orientation; gender identity or expression; parental, marital, or pregnancy status; religious or political beliefs; military or veteran status; and geographic, socioeconomic, and educational backgrounds.