About this Event
Learning how to use a computer can be a challenge if you struggle with reading or writing in English. Luckily, we offer the Computer Access for Literacy Learners (CALL) program. In this 30-hour program, you will learn the basics of using a computer from an experienced instructor who is trained in low-level language and literacy education. Classes are beginner-friendly, hands-on, and easy to follow.
Check out TIES website for more information and other classes for newcomers and Canadians: https://www.immigrant-education.ca/programs/language/computer-access-literacy-learners/
Our instructors will teach you important computer skills for everyday tasks, including:
Internet search
E-mail
Social media
Basic software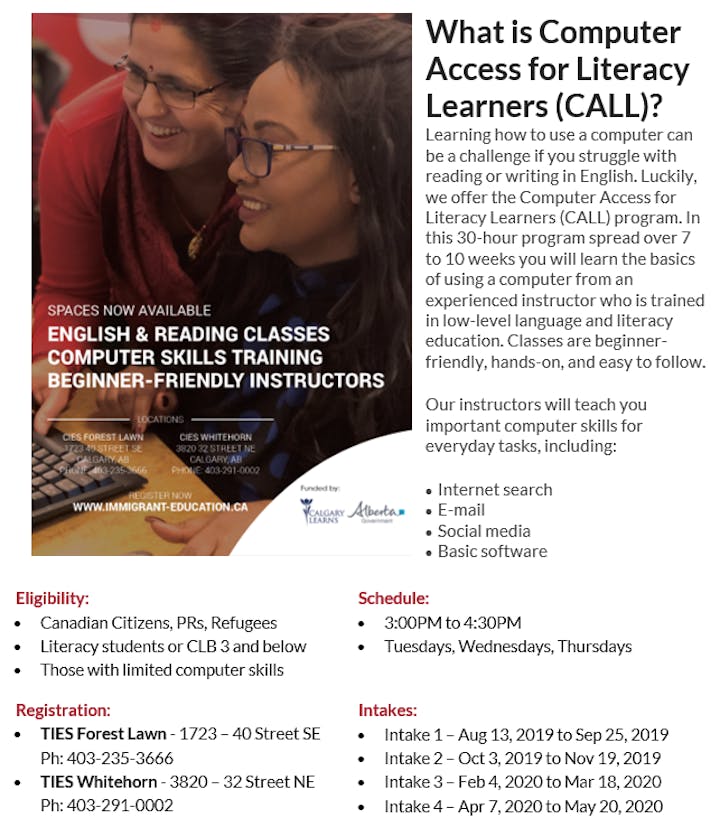 When is it?
Training is every TUESDAY, WEDNESDAY and THURSDAY 3PM to 4:30PM for 7 to 10 weeks. New classes begins in August 2019, October 2019, February 2020 and April 2020. You can register for classes anytime at two of our locations:
Forest Lawn Location
1723 – 40th Street, S.E., Calgary, AB, T2A 7Y3
403-235-3666
Whitehorn Location
3820 - 32nd Street N.E., Calgary, AB, T1Y 7L9
403-291-0002
What is the cost?
Low-income individuals: FREE
Non low-income individuals: $75.00
Requirements / Eligibility
To join this program you must meet the following eligibility.
Must be enrolled in Literacy and Basic English Program OR have Canadian Language Benchmark CLB 1L to CLB 3
Have legal status that will allow you to study in Canada for the 10-week course
Have limited computer skills