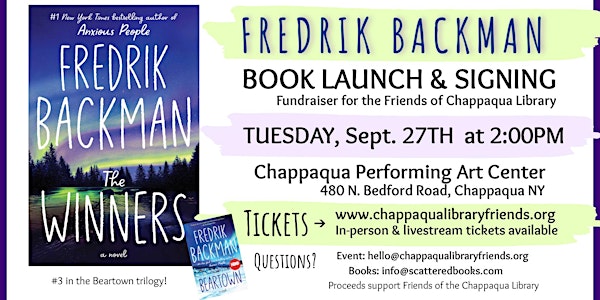 Fredrik Backman "The Winners" Book Launch
Bestselling author Fredrik Backman discusses his new book, "The Winners"
When and where
Location
Chappaqua Performing Arts Center 480 Bedford Road Chappaqua, NY 10514
About this event
The Town of New Castle, the Chappaqua Library, and the Friends of the Chappaqua Library are proud to host the book launch of Fredrik Backman's "The Winners" on September 27th!
Please join us in welcoming Fredrik Backman to discuss the long-awaited conclusion to the New York Times bestselling Beartown series -- which inspired an HBO series of the same name -- which follows the small hockey town's residents as they grapple with change, pain, hope and redemption.
This event is a fundraiser for Friends of the Chappaqua Library, a nonprofit organization that supports the Chappaqua Public Library through gifts for special items or projects not covered in the Library's operating budget. Katherine Whymark, President of Friends of the Chappaqua Library, will moderate the discussion. You can learn more about the Friends at www.chappaqualibaryfriends.org.
A "General Admission" ticket includes a signed hardcover copy of "The Winners." Doors will open at the Chappaqua Performing Arts Centers at 1:15PM and the event will start promptly at 2:00PM. Those joining for the livestream will use the link provided via email by the Friends of the Chappaqua Library, or on the "online event page" of Event-Brite.
Please note that Backman's additional titles, including Beartown, Us Against You, A Man Called Ove and Anxious People will also be available for purchase at the event or can be pre-ordered through Scattered Books. For international livestream tickets that come with a book, please contact info@scatteredbooks.com as additional postage applies.
Questions about the event can be directed to hello@chappaqualibraryfriends.org and questions about signed book purchases can be directed to info@scatteredbooks.com
This event is possible because of the sponsorship and teamwork of The Town of New Castle, Chappaqua Library, Friends of the Chappaqua Library and Scattered Books. We thank you sincerely for your support and hope to see you there!