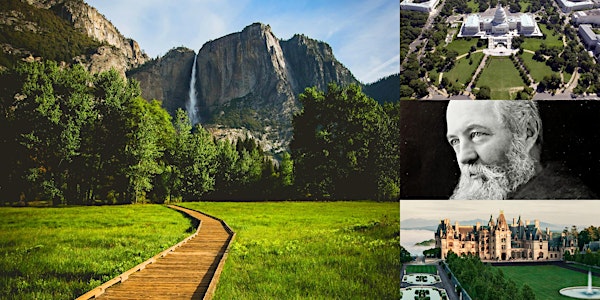 'Frederick Law Olmsted, Part II: Creating America's Green Spaces' Webinar
Can't make it live? Register and get access to the full replay for one week! New York Adventure Club | www.AdventureClub.com
About this event
If you've visited a public park in any city across America, chances are you've experienced the vision and legacy of Frederick Law Olmsted, this nation's first professional landscape architect. While Olmsted is best known for his work in New York City, he also designed parks and public spaces across the nation, and was an instrumental figure in laying out a vision for what would become the National Park System. How did this legendary American landscape architect get his start, and how did he singlehandedly influence so many green spaces throughout the United States? It's time to uncover the history behind the "father of American Landscape Architecture" like never before.
Join New York Adventure Club for a two-part series on the life and legacy of American landscape architect Frederick Law Olmsted (1822 - 1903), whose projects from urban centers like New York City to rural tracts like California's Yosemite National Park are considered to be some of the world's finest green spaces. In Part Two, we'll focus on Olmsted's role on the national stage during the Civil War and in Reconstruction-era America — and see how his vision touched the areas of public health, public space, and parks across the country.
Led by historian Lucie Levine, this unique virtual experience on Olmsted's bicentennial will include:
Olmsted's role in one of the largest public-health efforts in American history
The origins behind his visionary plan for the creation of the National Park System
A discussion around why Olmsted considered the Buffalo, NY park system one of his crowning achievements
An in-depth look at the coast-to-coast public parks and park systems that Olmsted designed, including the grounds of the U.S. Capitol, Boston's Emerald Necklace, and the Niagara Reservation
A survey of some of his most prominent works designed for private clients such as Vanderbilt's Biltmore Estate, Stanford University, and Rockefeller's Kykuit Estate
An exploration of how he turned a "park in the city" into a "city in a park"
Afterward, we'll have a Q&A with Lucie — any and all questions about Frederick Law Olmsted are welcomed and encouraged!
Can't make it live? Don't worry, you'll have access to the full replay for one week!
See you there, virtually!
*Immediately upon registering, you will receive a separate, automated email containing the link to join this webinar
**For the best possible viewing experience, please ensure you're using the latest version of your internet browser — Google Chrome is the most compatible. Exact technical requirements and a webinar user guide will be shared in the automated confirmation email upon registration.
***A full replay of the experience will be available to all registered guests for up to a week
'Frederick Law Olmsted' Series
Part I: New York's Landscape Architect
Part II: Creating America's Green Space
Disclaimer
By attending a New York Adventure Club experience, you accept our terms of service.
Photo Credit: Main - Kevin Andre
Categories: Virtual, Moments in History