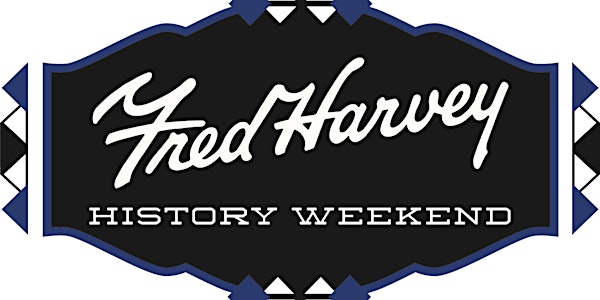 Fred Harvey History Weekend 2021
Fred Harvey History Weekend and Fred Harvey Foodie Dinner & Auction 2021! Attend in-person or online ! November 12-15, 2021
When and where
Location
New Mexico History Museum/Palace of the Governors 113 Lincoln Avenue Santa Fe, NM 87501
Refund Policy
Contact the organizer to request a refund.
About this event
Tickets for the FRED HARVEY HISTORY WEEKEND lectures (11/12-13) and the FRED HARVEY FOODIE DINNER & AUCTION (11/12) are available NOW!
Click on the green "Tickets" button to order! Scroll down past the sold out in-person lecture tickets and you'll see the available dinner and online tickets! And PLEASE register each attendee separately! You can register to attend in-person or online!
Online registration allows you exclusive access to watch events in real-time, or view the recordings when you like.
And for the first time our auction--benefiting the New Mexico History Museum--will allow bidding online and in person! Register here for the auction.
If you can join us in Santa Fe, you'll be able to attend two days of engaging talks at the New Mexico History Museum (in-person seating now sold out, but register to watch online one or both days), and enjoy our historically delicious Fred Harvey Foodie Dinner & Auction at the fabulous La Fonda Hotel.
For the dinner, top NM chefs recreate or reimagine classic dishes and cocktails served in Fred Harvey restaurants and dining cars. MC/Chef is John "Johnny Vee" Vollertsen from Las Cosas Kitchen & New Mexico Magazine, along with award-winning chefs John Sedlar (an Esquire magazine "Chef of the Year," father of SW cuisine and a former La Fonda busboy!), Lane Warner from La Fonda/La Plazuela, and pastry chef Michael Fram from Fram's Desserts. Author Stephen Fried will offer historic & culinary color commentary.
Tickets to the dinner are a donation of $150 or more, all proceeds going to the museum. This includes cocktail hour, dinner and, as usual, a special gift of Mimbreno China--designed by Mary Colter and replicated by HF Coors.
Here's the menu:
Passed Hors d'oeuvres: Baked Oysters Theodore with Crab (JV), Little Thin Orange Pancakes with Smoked Salmon & Caviar (JV), Stuffed Mushrooms with Braised Short Ribs (LW), Chef Johnny Vee and Chef Warner
Appetizer: Green Chile Relleno Stuffed with Mushroom Duxelle Served with a White Wine & Garlic Goat Cheese Sauce, Chef John Sedlar
ain Course: Chicken Vesuvio, Sous Vide Chicken Jus Lie, Romero Farms Fingerling Garlic Potatoes, Seared Rappini, Chef Lane Warner
Dessert: New Mexico Apple Crisp with Nutmeg Sauce, Michael Fram (also doing the bread basket)
https://www.facebook.com/events/561601528466884
After dinner, we will hold the last rounds of bidding in our fundraising auction (which begins silently on 11/9.) The auction includes Fred Harvey, Harvey Girls and Santa Fe Railway collectibles, books and some Native American art pieces; every year the Harvey family also donates some pieces which were owned by Fred and Ford Harvey themselves.
Proof of Vaccination or negative Covid test results needed for all onsite events.
There will also be three optional meals for the weekend, in Lamy a breakfast at Legal Tender, 11/13, 9:30-11:30 AM, for $45 plus tip and tax (RSVP here); and in Las Vegas, NM, a private dinner at the Castaneda Hotel 11/14 beginning at 6:30 PM for $100 plus tip and tax (RSVP here); a casual farewell breakfast 11/15 from 8 AM on in the Prairie Hill Cafe at the Plaza Hotel.
On Sunday in LV, beginning at 1 PM, there will also be optional free tours of the Castaneda Hotel and the newly restored Rawlins Building across the street (where the Harvey Girls lived) courtesy of Southwest Detours. No registration required.
Schedule of this year's History Weekend sessions:
Friday at NMHM
11:30 check-in begins for auditorium
12:45 welcome by Billy Garrett
12:55: Stephen Fried, state of FredHead nation, weekend intro
1:30 "Deep Inside the Alvarado" with our newest young FredHead research whiz, architect and rail historian Matt Kluge (includes everything from new research on Mary Colter's role in the Indian Room to the architectural life of what was then the most important hotel and station in the Harvey System); followed by Q&A
2:30 15-minute break
2:45: Q&A with the fabulous Jean Harvey Vanderbilt on her life in two of the nation's most important railroad families, moderated by Stephen Fried
3:45: A Memorial Session for Steve Wimmer (various speakers, contact us to speak or share photos; also discussion of new Steve Wimmer SW History Research Fund)
Saturday
1:00 welcome
1:10: "How the West Was Won by the AT&SF and Fred Harvey—Inside the Colorado Railroad Wars" with best-selling author John Sedgwick discussing his new book "From the River to the Sea"
2:00 Book signing, NMHM lobby, for John Sedgwick (as well as Richard Luckin, as his classic book on Mimbreno has been republished)
2:30 "Fred Harvey, Reinvented 1948-1968" a personal/professional journey with Daggett Harvey, Jr.
3:35 FH Collector's Series: Richard Luckin on Railroad China world expert on US rail china (and producer of many films on RR history) teaches novices and experts about collecting rail and FH/ATSF china, including Mary Colter's Mimbreno
If you wish to donate Fred Harvey-era or Harvey inspired items to be auctioned, please contact us at fredharveyhistory@gmail.com
If you have any questions about the weekend please contact us at fredharveyhistory@gmail.com. For more info on Fred Harvey and previous weekends check out www.fredharveyhistory.com