Location
Fremont Country Club
601 Fremont Street
Las Vegas, NV 89101
Description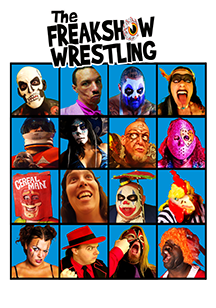 Freakshow Wrestling presents: Hail To The Spandex Gods
Freakshow Wrestling, the craziest sexiest scariest silliest pro wrestling variety show the world has ever seen, graces Las Vegas with our first show of 2017. Freakshow offers the most outrageous, irreverent night out of fun and ridiculous debauchery Las Vegas has to offer!!! Booze! Wrestling! Comedy! Magic! Sideshow! In a town where it's tough to turn heads, we'll turn yours...all the way around! Step off the strip and step into the FREAKSHOW!!! Freak out! Freak out!
On the card:

Main Event: Samoan Werewolf Jacob Fatu w/manager Kim Chi Roblez vs Freakshow Wrestling Champ - Funnybone!!!
On Your Mark hosted live by Mark E Extreme with guest Gaydolf Hitler
I Quitler Match: Gaydolf Hitler vs Jonald Trump!!!
Tables Ladders & Carrots!!!

Drugz Bunny & Cerealman vs. Sinn Bodhi & Lucha Underground's Marty The Moth, w/ special guest referee Techno Destructo!!!

Inner Demons Match: Black Annie vs Black Annie with Special Ref: Scorchie Warbucks

Intergalactic Meaning of Life Easter Egg Hunt to the Death Match!

Satan VS Techno Destructo w/ special guest referee JESUS!
Old School Rasslin' Match!!!
Lucha Hardcore Six Man Tag!!!

Starring: Durango! Pyschohysteria! Lucha Underground star: Ricky Mandel! & more!!!

Evening Gown Match

- Mr. Wonderful Rock Riddle vs ???

4 Corners Dating Game Elimination!

Starring Shelly Martinez! Warpig! Andrea the Giant! Depressler! Brittney Wonder! One Leroy Wolfpack Patterson!

Kreepy Karen Karaoke w/ guest Beast of Dim

Ass Kicking Contest!

Gorgeous Gary Galaxy VS The One Legged Man Harry Henderson

Plus: Lucha Underground star Willie Mack! Silias Mason! Useless Aquaman! The Detention! Clown Boys & Indians! Shocker! Aussy Blood! Major Corruption! Dangerous D! Bizzaro! & more!!!
Freakshow Wrestling presents: Hail to the Spandex Gods
Saturday, April 29th, doors open at 8PM to meet and greet the wrestlers, show starts at 9PM
Fremont Country Club (Downtown Las Vegas' #1 non-casino concert venue)
601 Fremont Street, Las Vegas, NV 89101
21+, $20 general admission
The official Freakshow Wrestling merch store is here!