FREAK CIRCUS with Jack Beats
When and where
Location
Ruby Skye 420 Mason St San Francisco, CA 94102
Description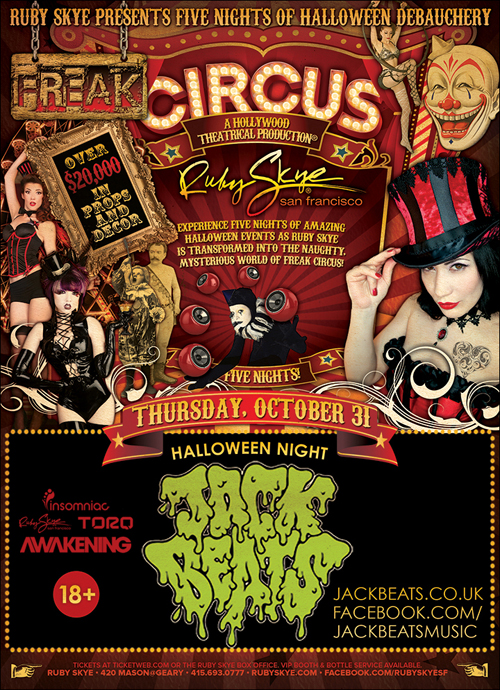 Jack Beats have a plan. That plan involves taking the very best, most spectacularly effective pieces from a vast array of different musical genres and blending them together into an irrepressible force that detonates on contact. When you lay it out like that it all seems quite simple really, doesn't it?
"It's all in the influences," says Niall Dailly, the Scottish half of the band. "There's always room for a drum n bass breakbeat, or an old rave riff, or a vintage house sample."
"It might be a hip hop loop, some unlikely, twisted up dubstep bassline or a more minimal techno feel," says the other half of the band, Ben Geffin. "All these ideas are fed into what we do in the studio. And suddenly…"
"Suddenly it sort of works!" laughs Niall. "We just love hybrid music. So now we're making our own brand of hybrid music and shaking it all up a bit."
Niall and Ben describe the release of their mini albums as a "summing up" of everything they've experienced to this point. "They're a showcase of everything that we've got going on," says Niall. "We've really got the bit between our teeth here. We're always trying to be original and do something different. That's the hip hop side of us; because in that culture, if you weren't being original, if you were biting other people's ideas, you'd be out of a job."
Through their six singles and a string of monstrous remixes for the likes of Skream, Beyoncé, Aloe Blacc, Big Boi, Florence & The Machine and La Roux they have formed a relationship with an increasingly hungry audience.
"We're in a world of our own," Ben says. "We've always made music that's quite forward-thinking and different. So much so that, sometimes, we're not sure whether anyone else is even into it. There's a bit of fortune-telling going on in what we do, but we both have patience, we never release anything until we know it's absolutely right."
For Niall and Ben the joy in music is in the idea and its execution. They're relentlessly moving forward and they're intent on bringing us all with them.
"There's nothing more satisfying than when we've done something that we think might go over everyone's heads and six months later everyone loves it! It gives you more confidence in the weirdness of your ideas…"
Terms and Conditions:
This event is 18 and over. Any Ticket holder unable to present valid identification indicating that they are at least 18 years of age will not be admitted to this event, and will not be eligible for a refund.
Support lineup subject to change. No refunds will be issued for lack of identification or invalid identification.
Fashionable Attire is required, no sneakers, shorts, tank tops, baseball hats or gym clothes.
By purchasing a ticket, you will also receive weekly email blasts from Ruby Skye about upcoming events, guest lists and more.