"Fray: Art and Textile Politics" with Julia Bryan-Wilson and Lynne Cooke
Description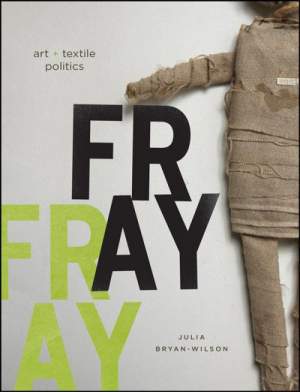 "Fray: Art and Textile Politics": A Conversation with Julia Bryan-Wilson and Lynne Cooke
Julia Bryan-Wilson, associate professor of modern and contemporary art, University of California, Berkeley; Lynne Cooke, senior curator, special projects in modern art, National Gallery of Art
On October 1, 2017, at the National Gallery of Art, Julia Bryan-Wilson joins Lynne Cooke to discuss the publication of Fray: Art and Textile Politics, which explores textiles and their role at the forefront of debates about process, materiality, gender, and race in times of economic upheaval. Closely examining how amateurs and fine artists in the United States and Chile turned to sewing, braiding, knotting, and quilting amid the rise of global manufacturing, Bryan-Wilson argues that textiles unravel the high/low divide and urges us to think flexibly about what the politics of textiles might be. Her case studies from the 1970s through the 1990s are often taken as evidence of the inherently progressive nature of handcrafted textiles. Fray, however, shows that such methods are recruited to often-ambivalent ends, leaving textiles very much "in the fray" of debates about feminized labor, protest cultures, and queer identities. The first contemporary art history book to discuss both fine-art and amateur registers of handmaking at such an expansive scale, Fray unveils crucial insights into how textiles inhabit the broad space between artistic and political poles—high and low, untrained and highly skilled, conformist and disobedient, craft and art.
A book signing of Fray: Art and Textile Politics follows.
Lecture-related events are free and open to the public. Seating is available on a first-come, first-seated basis. Registration is not required.
Date and Time
Location
National Gallery of Art
East Building Auditorium
4th St NW and Constitution Ave
Washington, DC 20565