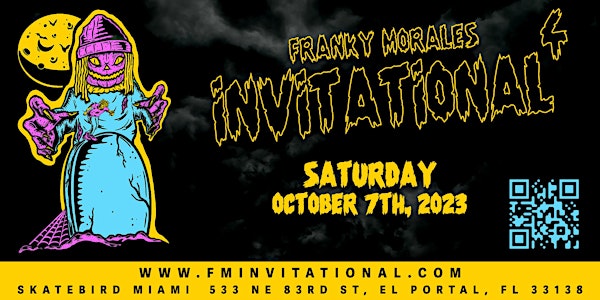 Franky Morales Invitational 4 at Skatebird Miami
FM Invitational 4 at Skatebird Miami
Date and time
Saturday, October 7 · 10am - 10pm EDT
Location
SkateBird Miami 533 Northeast 83rd Street El Portal, FL 33138
About this event
Join us for the 4th Franky Morales Invitational at Skatebird Miami on October 7th, 2023.
Signups for each competition are open for Men's, Bladies, Juniors & Quads. Everybody is welcome to to enter the competition (YOU DO NOT NEED TO BE INVITED TO COMPETE).
Competition registration closes Thursday, October 5th at Midnight.
If you aren't able to attend but would still like to support, there is a donation link in Eventbrite. All proceeds from tickets and donations are going towards the prize pool!
There will be free offsite parking (church across the street) and street parking at the venue.
For spectators and competition entry please register
Attendee: $5 General Admission Presale, $10 @ Door
Men's Comp Entry: $50
Bladie's Comp Entry: $25
Junior Comp Entry: $25
Quad Comp Entry: $25
For vending/sponsor and all inquiries please email
fminvitational@gmail.com