Help us kick off the year with our first FrankTalks by learning about the top people to know in 2020.
About this event
Franklin Tomorrow presents FrankTalks: Top People to Know in 2020.
Join us as we learn about the movers and shakers who are shaping the Franklin community's future with their work. Panelists will be announced closer to the date of the event.
FrankTalks will take place on Monday, January 13 at 9 a.m. until 10:30 a.m. at Columbia State Community College- Williamson County Campus. A coffee social will occur from 9-9:30 a.m. and the program will start at 9:30 a.m.
Parking is available in the new parking garage and the event will take place on the second floor of the Administration Building.
FrankTalks would not be able to take place without the support of our presenting sponsor, Renasant Bank, and our sustaining partner, Williamson Medical Center.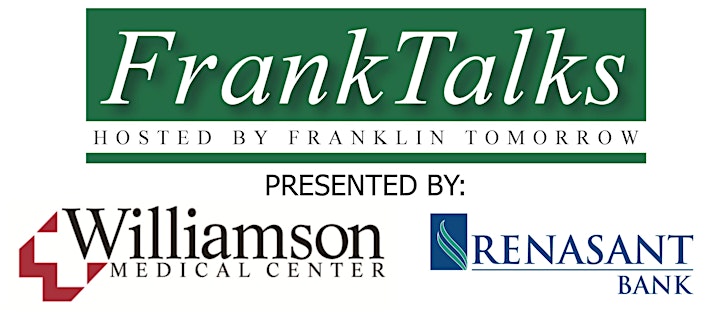 Franklin Tomorrow is the community visioning nonprofit for Franklin. Established in 2001, it seeks to engage the community, foster collaboration, and advocate for a shared vision for the future of Franklin. That shared vision for the future of Franklin is to be a city with robust neighborhoods, a vibrant economy, distinct character, and great people.