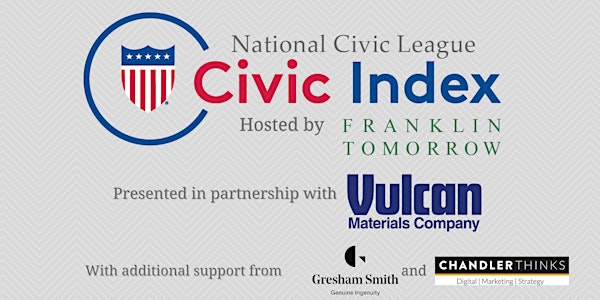 Franklin Tomorrow Civic Index Conversations - Virtual Events
Franklin Tomorrow will be hosting its Civic Index Conversations Throughout Franklin
About this event
The first edition of the Civic Index was created by the National Civic League in 1986 and since then, the Civic Index has been used as a tool by cities and agencies across the country for measuring a community's civic capital. Communities have used the Civic Index to identify gaps or areas in need of further attention, soliciting community input to create a baseline measure of their civic capital and monitor progress over time as they work to enhance their internal capacity.
Franklin Tomorrow plans to initiate the Civic Index Conversations by asking community members and organizations to participate in the Civic Index Conversations, being held during April 19 - May 4. These events will be virtual via Zoom. Please RSVP by clicking the "Register" button above and register for the date and time that work best for you on the registration page. You will receive your Zoom link before your event start time.
_______________________________________________________________________________________
The Civic Index and Community Conversations are presented in partnership with Vulcan Materials. Additional support comes from Gresham Smith and Chandlerthinks.