Description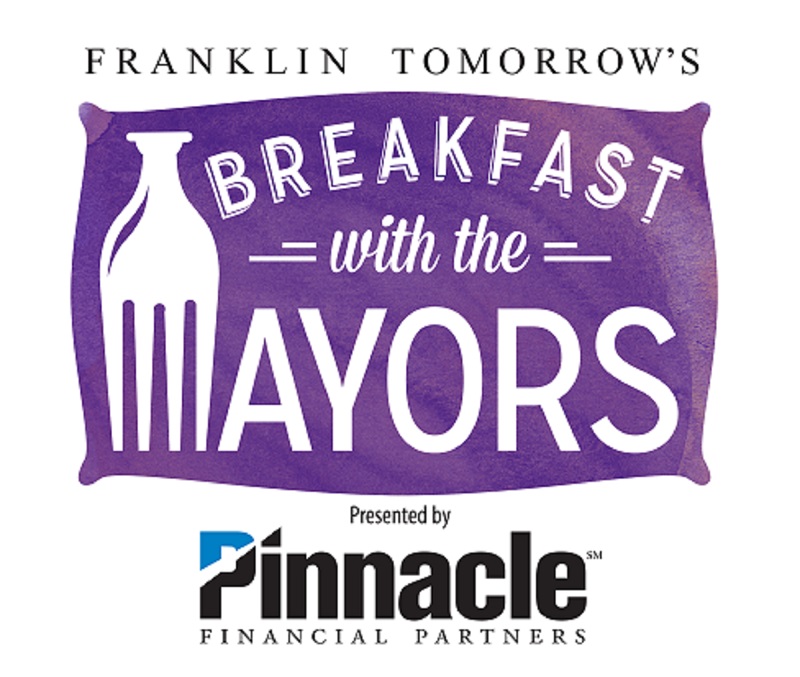 Franklin Tomorrow's 2017 Breakfast with The Mayors series, presented by Pinnacle Financial Partners, will continue on Tuesday, July 25 at Rolling Hills Community Church.
The event will begin with networking at 7a.m., followed by the start of the program at 7:45 a.m. Williamson County Mayor Rogers Anderson will help facilitate the timely topic of "The Business of Sports" Representatives will speak of the economic impact of sport organizations in Middle Tennessee.
The panel will include Sean Henry, President & CEO of the Nashville Predators; Steve Underwood, President of the Tennessee Titans; Will Alexander, co-founder of Nashville's bid for Major League Soccer; and Ellie Westman Chin, CEO of the Williamson County Convention & Visitors Bureau.
Coffee will be served by MJ Roasting of Nolensville and breakfast will be catered by Puckett's Grocery & Restaurant.
Thanks to our generous partners, Breakfast with the Mayors is free to attend. Our 2017 supporters include Pinnacle Financial Partners, Williamson County Association of Realtors, Williamson Medical Center, Tennessee Equine Hospital, Rolling Hills Community Church, Patterson, Hardee, & Ballentine, Puckett's Grocery & Restaurant, and MJ Roasting. We would also like to thank our Gold Partners, Andrews Transportation Group and Hazen and Sawyer, for their support as well.