Join us for Franklin Tomorrow's 14th Annual Exemplary Community Volunteer Awards
About this event
Williamson County is blessed with individuals of all ages and companies and groups of all sizes who give unselfishly of themselves to make our community a better place. We will be honoring these volunteers during Franklin Tomorrow's 14th Annual Exemplary Community Volunteer Awards presented by USI and Grange Insurance.
The ceremony will be held Tuesday, November 17 from 7 - 8 p.m. The event will be a virtual event and will be live streamed on Franklin Tomorrow's Facebook page, YouTube channel and website.
Awards are presented in a variety of categories to individuals, businesses and civic groups, with one new award this year. Being added this year is the Neighbor To Neighbor Award, which will be given to an individual or organization that has shown extreme generosity to its neighbors and has exceeded expectation in terms of giving back to the community.
Franklin Tomorrow's Exemplary Community volunteers are made possible through a host of partners, including our presenting sponsor USI and Grange Insurance. Other partners include Vanderbilt University Medical Center, Gresham Smith, Williamson Medical Center, Franklin Lion's Club and Buerger, Moseley, & Carson PLC. Additional support comes from Williamson Memorial Funeral Home, TMA Group, Ernie & Nell Bacon, District Attorney General Kim Helper, Landmark Community Bank, Rep. Glen Casada, Rep. Sam Whitson, Sen. Jack Johnson and Ryan Partners.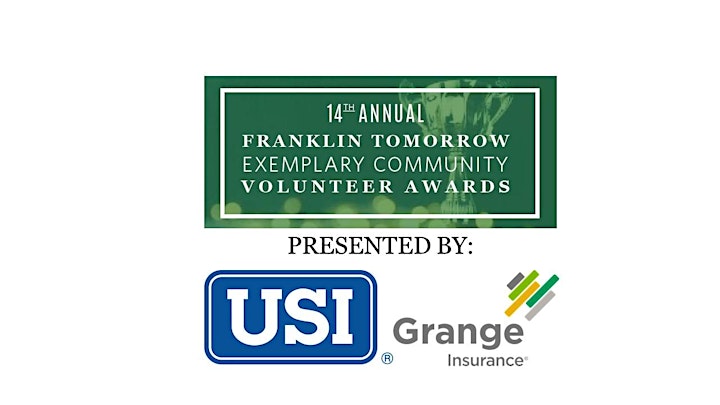 Organizer of Franklin Tomorrow 14th Annual Exemplary Community Volunteer Awards
Franklin Tomorrow is the community visioning nonprofit for Franklin. Established in 2001, it seeks to engage the community, foster collaboration, and advocate for a shared vision for the future of Franklin. That shared vision for the future of Franklin is to be a city with robust neighborhoods, a vibrant economy, distinct character, and great people.