Dave Kiss Presents: Frankie and the Witch Fingers and Medusa's Disco at Everybody Hits
About this event
Frankie and the Witch Fingers
Over the course of five years and five LP's, L.A. veterans, Frankie and the Witch Fingers, have been mutating and perfecting their high-powered rock n' roll sound. After savagely touring the USA and Europe, this four-headed beast has shown no signs of relenting—appearing like summoned daemons and dosing crowds with cerebral party fuel.
The main attraction of Frankie and the Witch Fingers is their explosive performance. With their rowdy and visceral approach to live shows, each member brings their own devilry to induce an experience of bacchanal proportions.
Using absurd lyrical imagery—soaked in hallucination, paranoia, and lust—the band's M.O. strikes into dark yet playful territory. This sense of radical duality is astir at every turn, in every time signature change. Airy vocal harmonies over heavily-serrated riffs. Low-key shamanic roots under vivid high-strangeness. Rambling stretches and punctuated licks. Cutting heads and kissing lips. All this revealing a stereophonic schizophrenia that has flowed throughout their body of work: an ebb & flow of flowery-poppy horror.
The band's latest incarnation is primed to break new sonic ground, edging into the funky and preternatural. Just when you think the trip couldn't get any weirder, Frankie and the Witch Fingers cranks up the dial, shatters the mundane, and summons new visions.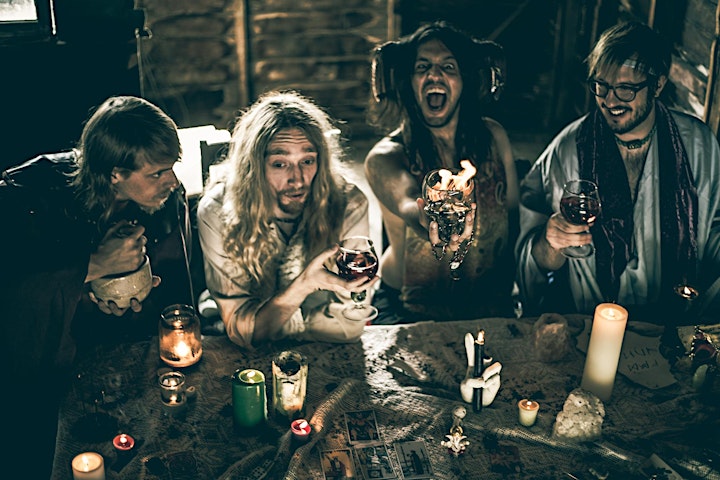 Medusa's Disco
Medusa's Disco conjures the conductor and lays down the track for their high-speed train roll through a realm of odd, yet familiar, feelings, creatures, and catastrophes. Wynton Huddle and Hunter Root harmoniously guide listeners through their lyric's careful images while simultaneously shredding guitar. Together with Alex Aument (drums) and Justin Wohlfeil (bass), Medusa's breaks heavy soundwaves with a medley of rock styles: funk, progressive, surf…
To lead us through these strange dimensions, Huddle dons horned headpieces and uses a megaphone to command the crowd: a tactic learned from an inspiration of his, the Butthole Surfers. Root's long blonde curls curtains across his face to leave an eerie distance between himself and the crowd during high-paced play. These theatrics give Medusa's Disco an aesthetic to match their utterly unique sound—an exemplified model of organically organized chaos. Medusa's Disco's stage presence isn't a gimmick, but rather a fearlessly, ferociously raw showcase of their world.
Medusa's Disco has become the misfit puzzle piece of the local festival landscape. Tumbling the piece alone in your hand, it's not certain where exactly they fit, but once pressed into the picture, it's clear there is a space carved out just for them.
Performers
Date and time
Location
Refund policy