Franciscan University Adoration in the Portiuncula Fall Semester 2019
Description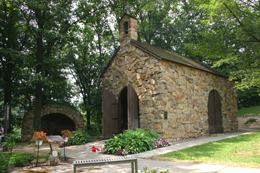 Perpetual Adoration in the Portiuncula will begin on Wednesday, September 11th at 7:30 a.m. and ending on Friday, December 6th at 1:00 p.m.

"What wonderful majesty! What stupendous condescension! O sublime humility!
That the Lord of the whole universe, God and the Son of God, should humble Himself like this under the form of a little bread, for our salvation"
- St Francis of Assisi
SIGN UP INSTRUCTIONS:
Select REGISTER.

Select the day that you would like to commit to a weekly adoration time, select "1" under Quantity, next select Checkout. If you want to fill both slots for a particular time, you must register each time period separately.

Complete your First Name, Last Name, Email Address, Cell Phone, Create Password, and Box #/Local Address, and then select the time (am during the day) or (pm during evening) from the drop-down menu.

The time slots that are available for Adoration will be highlighted in a darker print. When a particular time slot is not available the time will be shadowed in a lighter print.

Then click "Complete Registration", you will receive an email confirmation of the day and time that you selected.

The maximum number of individual time slots you may register for is two.
SIGN IN BINDER:
A sign-in register binder is provided in the Portiuncula, upon your arrival you must sign in the book by your name and time. This signature indicates your faithfulness to your designated adoration time. If you have an alternate replacement, for your time commitment, please have that individual sign their name by your selected time.
From the University Chaplain, Fr. Shawn Roberson, T.O.R.
Spending time in prayer before the Blessed Sacrament is a most precious privilege that the Church extends to all of us. If we have committed ourselves to a weekly time slot, that commitment should be considered a sacred one that we should not take lightly. Should anyone for any reason, not be able to make his or her time commitment they should make every effort to find their replacement. In that way we will be faithful to the prayer time we have promised to the Lord.
"Every effort should be made to ensure that there should be at least two people present. There must absolutely never be periods when the Blessed Sacrament is exposed and there is no one present for adoration…." - Responsum ad dubium received by the USCCB Committee on Liturgy (July 1995), in Solemn Exposition of the Holy Eucharist.
Matthew Chapter 26:40-41 When he returned to his disciples he found them asleep. He said to Peter, "So you could not keep watch with me for one hour? Watch and pray that you may not undergo the test.
In order for Adoration in the Portiuncula to open on Wednesday, September 11th, all time slots must be filled.