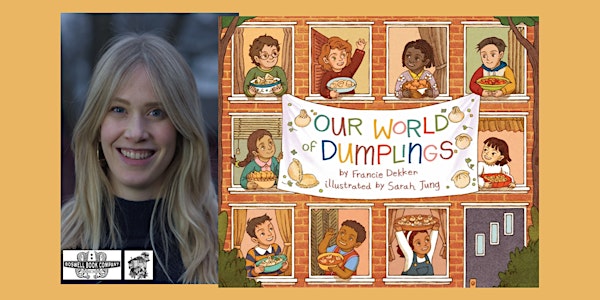 Francie Dekker, author of OUR WORLD OF DUMPLINGS - a Boswell event
Francie Dekker, author of OUR WORLD OF DUMPLINGS - an in-person Boswell event
When and where
Location
Boswell Book Company 2559 North Downer Avenue Milwaukee, WI 53211
About this event
Boswell Book Company hosts an afternoon event with Francie Dekker, author of Our World of Dumplings, a delicious story that celebrates how food brings people and cultures together.
An apartment complex is having a dumpling festival, and all the kids are excited to watch and help each family cook up different versions of the delicious treats. From kreplach to khinkali and Johnny cakes to jiao zi, each household has its own way of making dumplings, uniquely hand-crafted and based upon their culture. As the children wrap, cook, and eat all the different types of dumplings, they learn how dumplings are the ultimate labor of love!
Underscoring the power of food to both bring us together and help us celebrate our differences, Our World of Dumplings is a rich story that shows the tender relationship between food and company and its natural ability to create a sense of community - and will leave you hungry for more!
Francie Dekker is a youth gardening and nutrition educator in Milwaukee, Wisconsin. She was a contributing writer for Edible Milwaukee Magazine, where she wrote a quarterly "Kids Table" column that explored how gardening, food, culture, and youth intersect. In 2016, she received a Food Writing Fellowship from the Culinary Trust. Our World of Dumplings is her debut picture book.
Click here to order your copy of Our World of Dumplings. Signed copies and personalization available on pre-orders. Please note that signed copies will ship after the event.