Franchising & The New Tax Law : What Business Owners Need to Know
Description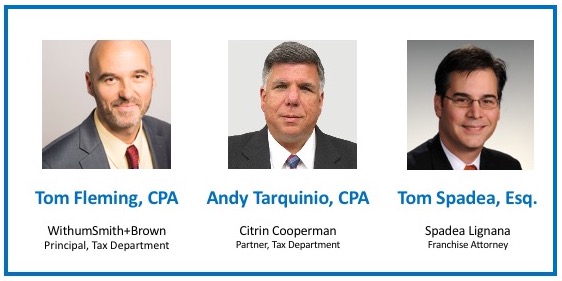 Last year had its fair share of changes out of Washington D.C. The biggest one for our members of course was the December tax law that took effect January 1st. A lot of the focus on the new tax law was how it was going to impact business owners, small and large alike. Whether you are a franchisee concerned about your entity structure, a franchisor hoping for your franchisees to keep more of what they earn or a franchisor considering an exit strategy in the near future everyone has been impacted by the new tax law.
Our goal is to take the politics out of the tax law and to help the audience understand the basics, how it may impact their bottom line and high level strategies to take advantage of some of the provisions.
Our panel with dissect some of the more nuanced changes such as the elimination of the "meals & entertainment" deduction and other details that may have been missed by our members but could have a big impact on their bottom line and franchising in 2018.
And of course, come to enjoy a great meal and network with your franchising friends. Our last event was almost at capacity with over 120 attendees from all aspects of franchising. If you missed it, go to www.phillyfranchise.com for the video of the panel.
As the Philadelphia Franchise Association begins it's fifth year, we are very thankful for all the support, enthusiasm and networking the local franchise community has poured into the organization making it a huge success. Especially the sponsors, without your support none of this would be possible.
If you haven't been to one of our lunches, this is a great opportunity to find out what all the buzz is about.