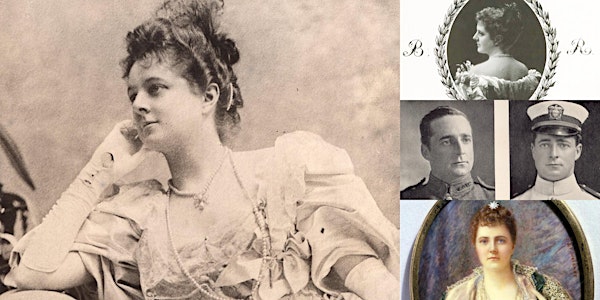 'Frances Ellen Work: Uncovering Princess Diana's American Roots' Webinar
Can't make it live? Register and get access to the full replay for one week! New York Adventure Club | www.AdventureClub.com
About this event
Contrary to popular belief, Meghan Markle was not the first American woman to join the lineage of Britain's royal family — that distinction goes to Frances Ellen Work (1857-1947), the beautiful and tempestuous American heiress who was the great-grandmother of Princess Diana. But who was this early American socialite, and what earned her a spot in "The 400," Caroline Schermerhorn Astor's elite social circle? From family inheritance drama, to a manipulative father, to a highly-public divorce, this is the tumultuous story of one of the most prominent women of the American Gilded Age and Royal Society.
Join New York Adventure Club as we explore the life and legacy of Frances Ellen Work, Princess Diana's beautiful and wealthy American great-grandmother.
Led by author and Gilded Age historian Richard Jay Hutto, our experience surrounding Princess Diana's royal lineage will include:
A look at how Frances Work's father leveraged the family fortune to bend the will of his daughters and grandchildren, including 15 codicils specifying what they must do in order to inherit it
The story of how Frances, in a desperate attempt to escape her father's domination, was tricked into marrying her horse trainer who falsely claimed to be a Hungarian count
Why Frances's former husband sued her for bigamy and used British law to shield himself while serving as an elected Member of Parliament
A discussion of the interconnecting lives of her twin sons who were High Society favorites
Hear how Frances' sister — the "good daughter" — volunteered in France to escape the scandal of her husband's misdeeds
Afterward, we'll have a Q&A with Rick — any and all questions about Princess Diana's American Family are welcomed and encouraged!
Can't make it live? Don't worry, you'll have access to the full replay for one week!
See you there, virtually!
*Immediately upon registering, you will receive a separate, automated email containing the link to join this webinar
**For the best possible viewing experience, please ensure you're using the latest version of your internet browser — Google Chrome is the most compatible. Exact technical requirements and a webinar user guide will be shared in the automated confirmation email upon registration.
***A full replay of the experience will be available to all registered guests for up to a week
About Rick
Gilded Age expert and author Rick Hutto most recently shared with the Adventure Club details and photographs from the famous Bradley Martin Ball of 1897 given by his wife's great-grandparents. Learn from him about this fascinating woman who shared more than just a name with Princess Diana.
Testimonials
"Rick is a great storyteller and lecturer. I enjoyed the various royal anecdotes he shared throughout the presentation." -Geoffrey
"I loved Princess Diana, so anything about her family would be of interest to me. The amount of research that went into this presentation was amazing. -Gloria
Great presentation with photo references." -Stuart
"Everything. Rick Hutto is a very thorough historian. There was so much information in the family tree but I understood it all and have the replay to look back upon. I always enjoy his webinars." -Leslie
"The presenter was professional! Covered alot of information and it didn't last 2 hours." -Leslie S.
"I was very impressed how Ric traced all the family members and was able to connect all the dots to other people and places." -Kathy
"I learned so much about Princess Diana's American family. Just so fascinating. The detail that was given was really interesting." -Laura
"So many interesting things to learn and enjoy!" -Martha
"Well organized presentation" -Miranda
"Had no idea how close Diana was with her American ties" -Barbara
"It was one of the best online presentations I have ever attended; it was well worth the reasonable price I paid. I'll certainly attend other events from this organizer." -Eva-Jayne
"Incredible amount of information presented. The photos were fascinating." -Diane
"Excellent presentation. Hope there will be more." -Mardine
"The subject matter and history were "10"" -Katherine
Disclaimer
By attending a New York Adventure Club experience, you accept our terms of service.
Categories: Virtual, Gilded Age