FRANCE IS AI conference 2017

Thursday, October 5, 2017 at 9:00 AM

-

Friday, October 6, 2017 at 7:30 PM (CEST)
Event Details
FRANCE IS AI conference 2017 - 2nd edition : brings together Researchers, Entrepreneurs, VCs and Executives to celebrate the French AI ecosystem. 
Challenges are in front of us : technology, business, societal impact – and network !


NEW! The conference program is now available: 
click here to discover the AGENDA


DAY 1 - October 5th 2017 : Technology and Science - Audience: Developers and Researchers
Keynotes and panels from top AI researchers on Machine Learning, Deep Learning et Reinforcement Learning - and talks from Heads of AI Labs at large corporations incl. Twitter, Huawei, Criteo, Rakuten... Check below for some of the speakers.
DAY 2 - October 6th 2017 : Applications and Society - Audience: Executives, VCs, public officials,  AI "curious"…
- Ecosystem focus: Interviews w/ VCs and Execs on the large AI trends, Panels on how to build a strong ecosystem, Interview of Cedric Villani - in charge of the new government mission on AI 
- AI and the disruption of every industry: Panels on how different industries are disrupted by AI (Transportation, Manufacturing, Finance...) and use cases from startups and large corporations
- AI and the societal impact: AI Impact on work, AI and Ethics 

--
FRANCE IS AI is non profit with the objective to REDISTRIBUTE all funds raised to the ecosystem.
Funds are redistributed to local AI events, as the SciKit-Learn Sprint in June 2017 for instance.
--
Some of our amazing SPEAKERS :
Event co-organized with FRANCE DIGITALE:
Our PARTNERS:
--
ABOUT FRANCE IS AI : visit franceisai.com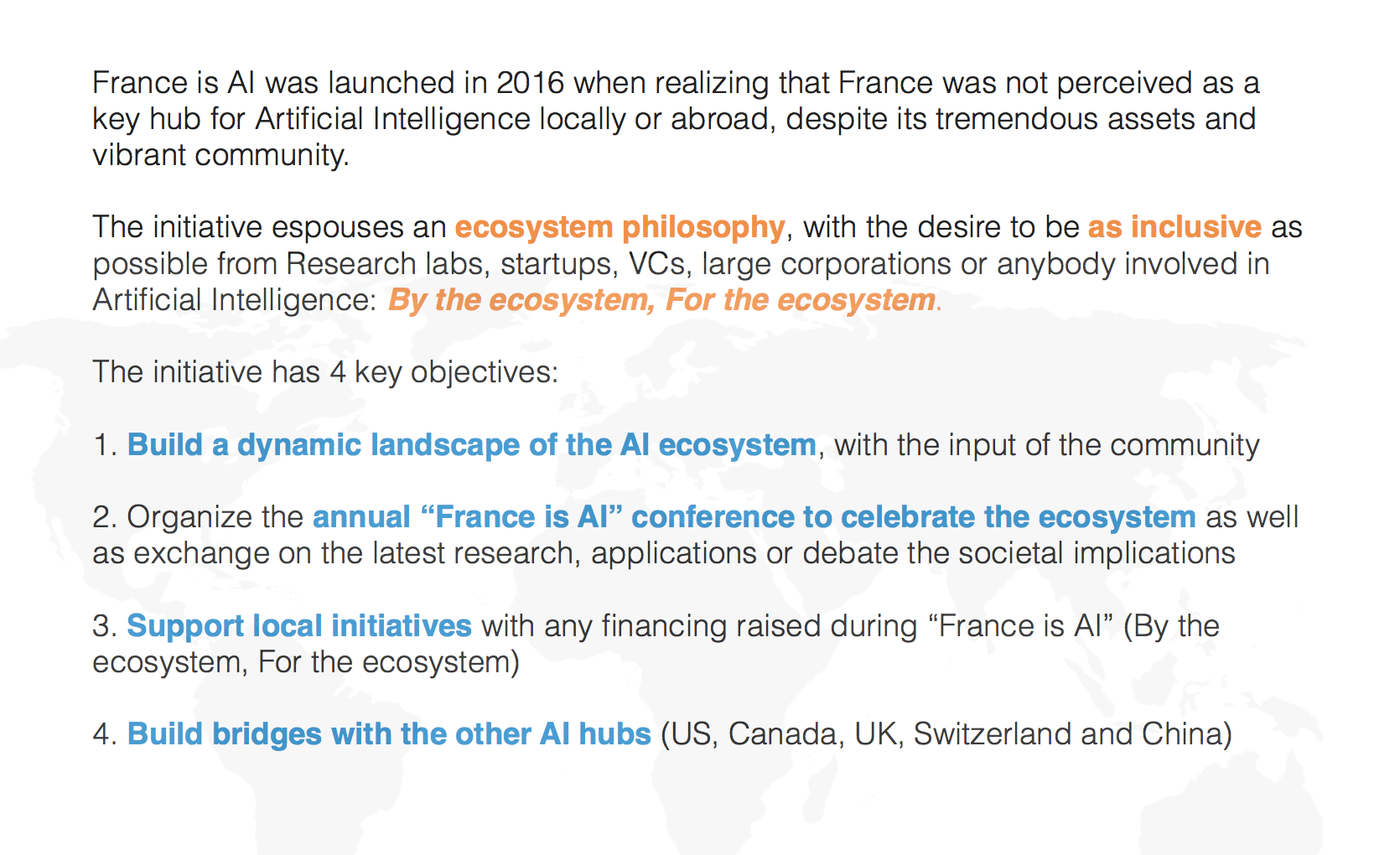 When & Where

WeWork La Fayette
33 Rue la Fayette
75009 Paris
France


Thursday, October 5, 2017 at 9:00 AM

-

Friday, October 6, 2017 at 7:30 PM (CEST)
Add to my calendar
Organizer
Fondée en 2016, France is AI (une initiative France Digitale) est une communauté active composée de passionnés de l'IA qui s'est donnée pour mission de :
Publier une cartographie dynamique de l'écosystème couvrant tous les acteurs (startups, recherche, meetups, éducation…) pour permettre une meilleure visibilité et lisibilité de ce qui se passe en France

Organiser la conférence annuelle « France is AI » – grand rendez-vous de l'écosystème pour regrouper tous les acteurs, promouvoir l'écosystème, échanger sur les derniers travaux de recherche, startups ou débattre de l'impact social de l'IA

Construire des ponts avec les autres écosystèmes IA (USA, Canada, Royaume-Uni, Suisse, Chine)

Soutenir les initiatives qui aident à diffuser l'IA et à promouvoir notre écosystème au niveau local, national ou international
Pour en savoir plus : https://franceisai.com