Framework for Empowering Stress Mgt, Resiliency & Culture of Corp Wellness

Wednesday, March 6, 2013 from 3:00 PM to 6:00 PM (PST)
Event Details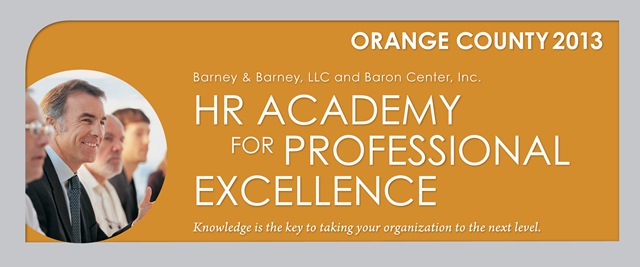 Registration: 2:30 – 3:00 pm
Course: 3:00 – 5:00 pm
Reception / Networking: 5:00 – 6:00 pm
2 HRCI Credits
Instructor: Daniel Friedland, MD, Medical Director, Barney & Barney, LLC and Founder and CEO, SuperSmartHealth
Course Objectives:
Integrating neuroscience, the science of mindfulness, cognitive behavioral therapy, positive psychology and the framework of evidence-based medicine, Dr Friedland will guide HR Professionals through the groundbreaking 4 in 4 Framework™: four key steps that enable employees to harness inspiration and continually realign their actions with their core values and vision.  As a novel resilience, stress navigation, and wellness and productivity program, this knowledge has applications to HR professionals wanting to learn a new approach to:
Improve communication, health, and well-being of their organization

Increase presenteeism and productivity

Promote leadership development

Reduce company-wide health costs, turnover, and absenteeism
Attendees will leave with tangible ways to create and moderate an environment of health and wellness. HR professionals will learn how to:
Create a company-wide resiliency and wellness program to Achieve Peak Performance

Identify the patterns with which employees react to stress and self-doubt and how to effectively manage their responses

Use a cognitive behavioral method to reappraise and neutralize employee experiences with stress and self-doubt

Assist employees in focusing on what's most important in their lives using a process to create their vision and implement strategies to manifest their desired results in the areas of health, relationships and productivity
Instructor Biography:
Dr. Daniel Friedland is a thought leader, keynote speaker, educator and consultant in Evidence-Based Medicine and Health and Wellness. He is board certified in Internal Medicine and is the author of Evidence-Based Medicine: A Framework for Clinical Practice, one of the first textbooks to guide physicians on this widely utilized approach to making effective medical decisions. Inspired by his medical training at the University of California, San Francisco (where he is currently an Assistant Clinical Professor of Medicine), he discovered how the framework of evidence-based medicine not only promotes scientific intelligence but also cultivates emotional intelligence to achieve a more holistic experience of health and well-being. An in-demand expert in decision-making and promoting scientific and emotional intelligence, Dr. Friedland has delivered programs to physicians, allied healthcare professionals, patients, the US Army, Air Force and Navy, HR Professionals, executives and employees in Fortune 500 companies, and for Vistage, a leading global network of CEO's. 
Dr. Friedland serves as Medical Director for Barney & Barney insurance brokerage, on the Board of Directors for the American Board of Integrative Holistic Medicine, and as the Founder and CEO of SuperSmartHealth, which provides Seminars, Consulting, Health Coaching, and Wellness Programs, including the 4 in 4 Framework™ to Achieve Peak Performance. This program empowers you to navigate stress, uncertainty and self-doubt and optimize your health, relationships and productivity.


When & Where

Brandman University
16355 Laguna Canyon Road
Irvine, CA 92618


Wednesday, March 6, 2013 from 3:00 PM to 6:00 PM (PST)
Add to my calendar
Organizer
Barney & Barney, LLC and Baron Center, Inc.
Framework for Empowering Stress Mgt, Resiliency & Culture of Corp Wellness