Description
Frame4Frame Film Festival celebrates the independent film industry by bringing some of the finest films from around the world to Arlington, Texas. The festival also spotlights the work of our talented local filmmakers and the passionate stories they tell through the unique medium of film.
The festival will take place in the state of the art facilities of the new Studio Movie Grill at Lincoln Square in Arlington, Texas. Participants will leave entertained and inspired to make a difference in their local communities.
Friday, September 22 - 7:00 pm – Join us for our special "Red Carpet" event screening of Jerico!

Jerico is the story of best friends who set out on a dangerous, but comedic journey that challenges the restrictions of a Jim Crow South to fulfill their dreams.

Starring Irma P. Hall, JoMarie Payton, Brandon Lewis, Anthony Fort, Gregg Daniel, Numa Perrier, and George Wallace.
Come out and meet the cast, take photos, and take part in a Q&A session after the screening.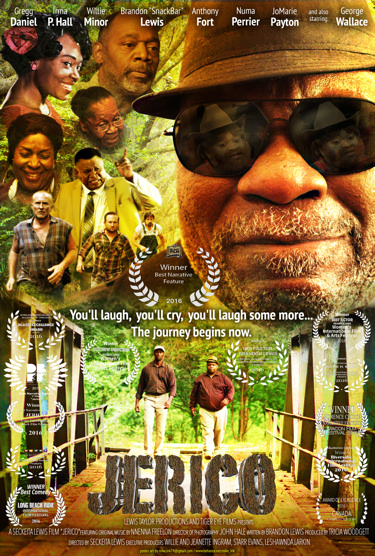 Friday, September 22 - 7:00 pm – Red carpet event screening of Jerico

Saturday, September 23 - 1:00 pm - 10:00 pm - Films All Day
Sunday, September 24 - 4:00 pm - 7:00pm – Afternoon screenings and awards presentations
Single event, day and festival passes available.


FILM SCHEDULE
Films on Friday, September 22nd
7:00 pm – 10:00 pm Movie Block

7:00 pm -

Short Film Series #1
Light Sight by Seyed M. Tabatabaei; Teharan, Teharan


M.E.,

is

the imprisoned character in a room

who

is attracted to a hanging light

. As he

tries to catch i

t t

he room itself

becomes an obstacle

.

(Animation)

14:00 by Kazuya Ashizawa;

Fukushima, Japan


Just before his

performance, a single pianist is trembling with tension in the sleeve of the stage

Retrospective

by

Valerie Torres;

Austin, TX


Richard tries

to make peace with his past and

prepare for his future. Renee i

s inspired by the winds to write a poem to her distant lover.

Things get interesting when their wires get crossed and

these two strange

rs are forced to speak intimately personal words to each other that were meant for someone else.

In a Dream

Edina Kishonthy;

Culver City, CA


Kate, a young office worker and aspiring pet portrait painter, is determined to find a mysterious man who keeps appearing in her dreams at night.
8:00 pm -

Red Carpet Feature
Jerico by

Brandon Lewis;

Prosper, TX


Jerico is the story of best friends who set out on a dangerous but comedic journey that challenges the restrictions of a Jim Crow south to fulfill their dreams.
__________________________________________________________
Films on Saturday, September 23rd

1:00 pm – 4:00 pm Movie Block

1:00 pm – Short Film Series #2
Path of a

Luthier

by

Cliff Sarde;

Pheonix, AZ


This documentary short film features one of the oldest guitar building schools in North America and showcases the work of its founder and graduates.

Cloth Paper Dreams by

Greg Davis;

Austin, TX
Watch as the stories of three men from three different worlds are woven together. Follow one man on his pilgrimage of faith, another on his journey of devotion, and a third on his quest for purpose.
Chassidy by

Fatoom Mo;

Arlington, TX
Born with a rare physical handicap, Chassidy shows remarkable courage and resiliency navigating a world of normalcy.

2:10 pm –
Documentary
Stickman by

Margaret Galbraith;

Port Washington, NY
A knife altered the course of Roosevelt Wilkerson's life twice. As a young man, it sent him to prison. Later, homeless and angry, he picks up a stick and begins carving. Stickman is the incredible story of Roosevelt's journey off the street and the transformative – and unlikely – friendships he makes along the way. Stickman demonstrates that love and compassion hold no economic nor racial boundary and have the power to transform each one of us.
3:30 pm –
Short Film Series #3
Fate of Revenge by

Elias Moreno;

Grand Prairie, TX


Sometimes even the bond of a father and son cannot compare to the yearn for revenge. This is a story about a man dealing with the death of his wife while attempting to raise his one year old son.

The Johnny Starr Story by

Israel Varela;

Dallas, TX


A reporter goes to investigate the death of rock musician Johnny Starr and a murdered D.A. forty three years ago. He soon finds himself in a tangled web.
4:00 pm – 7:00 pm Movie Block
4:25 –
Short Film Series #4
cupid is not a terrorist by

bellopropello;

Zuerich, Switzerland
Love is a random thing. Finding true love is a thrilling adventure, especially if personally involved as the target.

(Animation)

Super Dad!

by

Traveling Lemur Productions;

Shorewood, WI
All Toby wanted was one normal day.

However this t

urns proves to be too much to ask for when your dad is Captain Chaos, the super villain of Milwaukee!
5:00 pm –
Short Film Series #5
Fog

Jacinthe by Dessureault;

Montreal, Quebec
In a desperate attempt to connect with her ghostly schizophrenic father, a young woman tampers with his medication.
Choices by

Rick Hamilton;

Long Island City, NY
Deborah relies on chance to avoid making any choices in her life, but then faces a decision that can't be left up to fate.
Once Upon a Dream by

Anthony; Nion;

Belgium
When Valentin meets Ludivine, he is convinced she's the girl he has been dreaming of for the past

few

weeks.

Ludivine

however,

has a feeling this boy meet girl scenario

will take a nightmarish turn.

Ride a Wave by

George Wada;

Arlington, TX


Tommy Homonym invades a subplot from The Little Shop of Horrors in George Wada's eccentric black-and-white musical adventure

.
6:05 pm-

Documentary
Fly By Light by

Hawah Kasat;

Washington, D.C.
A group of teenagers board a bus for West Virginia, leaving the streets of Washington, DC to participate in an ambitious peace education program. For the first time in their lives Mark, Asha, Martha, and Corey play in mountain streams, sing under the stars, and confront the entrenched abuse, violence and neglect cycles of their past. But as they return to DC, each young person faces an unforgiving series of hurdles and roadblocks that challenge their efforts to build a better life. Through breathtaking visuals from street corners to mountaintops, Fly By Light is an intimate exploration of the chaotic, confusing, and emotional journey to rewrite a young person's future.
7:00 pm - 10:00 pm Movie Block
7:25 pm– Feature Narrative

THE DESCENDANTS by

Yaser Talebi;

Iran, Islamic Republic
The quiet l

ife of Jacob and his wife

becomes entangled with worries about their son Farrokh, who left Iran to continue his studies

. H

e has not been in touch with them for a long time, and now the father embarks on an Odyssey-like journey to find him.
__________________________________________________________
Films on Sunday, September 24th
4:00 pm – 7:00 pm Movie Block

4:00 pm– Short & Feature

Alternative Math

(Short) by

David Maddox;

Dallas, TX
A well-meaning math teacher finds herself trumped by a post-fact America.
Coming Home

(Feature) by

Rod Hermansen;

Arlington, TX
A father connects with his daughter throu

gh the sport of s

oftball. There is no greater love than that of a father for his daughter. Never grow up.
Save