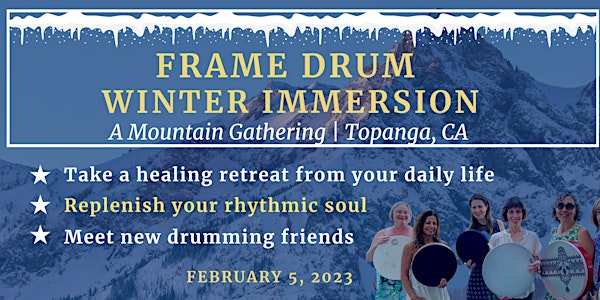 Frame Drum Live - A Winter Immersion - Topanga, CA
Share, connect and create in the universal language of music. The extraordinary energy of group drumming. We have missed it!
Refund Policy
Contact the organizer to request a refund.
Eventbrite's fee is nonrefundable.
About this event
FRAME DRUM LIVE: A MOUNTAIN GATHERING
February 5, 2023
Topanga, California (near Los Angeles, CA)
"When a group of people play a rhythm for an extended period of time, their brain waves become entrained to the rhythm and they have a shared brainwave state. The longer the drumming goes on, the more powerful the entrainment becomes. It's really the oldest holy communion." ~ Layne Redmond
★★★★★★★
Community. Live drumming. The extraordinary energy of group rhythm. The chance to meet like-minded souls… We all missed those things during the pandemic.
There is no time like the present to come together again through the sacred art of frame drumming. Played in ancient cultures for ceremony, sacred rites of passage and celebration, the frame drum is known for its restorative and relaxing properties.
★ Take a retreat from the routine of daily life
★ Replenish your rhythmic soul
★ Reconnect to your passion and purpose in 2023
Come join a group of spirited drummers for this special in-person event in a gorgeous home nestled in the stunning hills of Topanga, CA… a place known for its natural beauty and bohemian, creative community.
Includes a delicious organic vegetarian lunch by Chef Susan. (optional, for an additional charge). You can also bring your own lunch.
★★★★★★★★
WHAT WE WILL EXPLORE
★ TRADITION & TECHNIQUE
How to play in all three playing styles (lap, upright and freehand)
How to drum with confidence, creativity and skill
Focus on Middle Eastern techniques, adaptable to all hand drums
★ SKILLS & FOUNDATION
Begin/rekindle a relationship with your metronome!
Learn how to commit to a practice routine that produces results
Discover how to improvise easily in ANY meter
★ RHYTHMS & IMPROVISATION
Learn original & traditional world 'trance' rhythms (great for drum circles, gatherings, ceremonial work, personal healing)
Learn healing rhythms in 7, in honor of the new year (2023, 2+2+3)
Learn how to improvise in a 7-beat time cycle
★ MUSICALITY
Explore the magic of your voice through chanting & drumming
Gain confidence in composing your own rhythm songs
Learn how to read, notate and write rhythms with Marla's compositions
★ COMMUNITY
Share, connect and create in the universal language of music
Entrain your brain through drumming in a live, group setting
Meet others who you can continue to practice with (drum buddies!)
★★★★★★★★
WHAT YOU WILL TAKE AWAY
Proficiency in basic frame drum techniques
Ability to play rhythms from around the world
Knowledge of basic improvising
Inspiration to continue your practice
Like-minded new drum-loving friends
IS IT FOR ME?
Yes! This immersive gathering is open to all levels
Marla has structured the workshop to be informative as well as fun
Beginners are warmly welcome. You will gain skills… and hopefully a new (healthy!) addiction
Experienced players will discover more… You will expand upon your existing skills and be inspired by new and exciting rhythms
NOTE: Don't have a frame drum?
No worries...Drums are provided! Your drums are welcome too!
★★★★★★★★
DETAILS
DATE: FEBRUARY 5, 2023
Private Beautiful Hilltop Home
TOPANGA CA
11:00am – 2:30pm
(Optional organic lunch included OR bring your own lunch)
INVESTMENT:
★ Early Bird Prices Below (Save $20!) (ends January 27, 2023) :
Workshop with organic lunch: Early Bird, Only $99
Workshop without organic lunch : Early Bird, Only $79
About the Lunch: We recommend you join us for the organic lunch becuase it will be delicous and homeade with love by Chef Susan (past owner of "Topanga Fresh")
Yet if you chose not to, we undersand, please bring your own lunch! Thank you
★★★★★★★★
RESERVE YOUR SPOT(S) TODAY!
Limited Space. We have space for 18 spirited - drummers - and we are expecting a fucll house. If you hear the call, we suggest you sign up now!
(The full event address will be given a few days before the event via email)
★★★★★★★★
See you in the hills,
Love, Marla