Description
Seacoast Studios presents the world premiere of FrAcTured, a new play from Vancouver Island playwright Robinson Wilson.
March 20 - 24, 2012

8:00 pm

Tickets are $12 plus service fee

1564 Argyle Street, West Vancouver

Seats are limited, please book in advance.
FrAcTured follows the story of 13 teenagers who have survived a high-school shooting. This one-hour play is honest, powerful, provocative, surprisingly humorous, relevant, and thoroughly engaging.
High school instructors are invited to confirm group bookings for matinees on March 27 & 28. Maximum 30 seats per show. Please contact us ASAP at (604) 925-5120.
Please note: This play contains adult themes and language.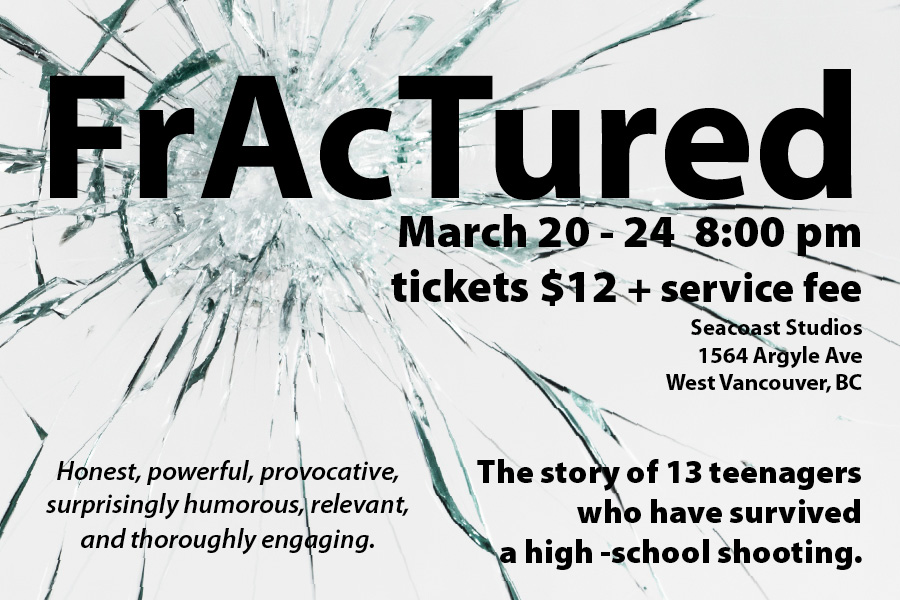 Seacoast Theatre Centre offers productions that demonstrate our commitment to the philosophy and art of ensemble acting.
We produce work of artistic merit and social significance.
We challenge each other and ourselves to grow and develop as individual theatre artists and as an ensemble.
We assist in the growth and development of the young artists in the studio through the mentorship program.
http://seacoasttheatrecentre.com/