About this Event
Wisdome LA presents a one of kind fractal journey in our massive 360 VR dome with some very special guests. The evening will begin with a full dome workshop, Q&A and world premiere of the new full dome movie 'FRACTAL TIME' followed by a very special set featuring Desert Dwellers and Bluetech with live visuals by Julius Horsthuis.
Come early to enjoy the SAMSKARA Exhibition that features:
A fully immersive 360 projection show,
Psychedelic Microdose VR gaming experience, and
Interactive art exhibition featuring the works of visionary artist Android Jones.
Schedule - TBA
About Fractal Time
Fractal Time is an abstract, immersive film that plays with the origin and future of our universe. Horsthuis considers his work "a journey of discovery" and the audience is invited to step inside these new, fractal realities. The results, accompanied by an original score, are both cinematic in their visual scope, and operatic in their approach: cities emerge from space ships, bottoms of ocean turn into jungles, at any point in time anything can happen and feel as if they reach what our imagination is capable of.
About Desert Dwellers
Desert Dwellers is the convergence of music producers Amani Friend and Treavor Moontribe, who honed their individual skills in the mystical deserts of New Mexico and California, long before electronic music reached the mainstream. Amani and Treavor combine the raw sounds of the natural world, wrapped in dance-floor and chill-out productions; blending deep bass, earthy percussion, etheric voices, and cross-cultural instrumentation into a sonic incense for the mind and body. Desert Dwellers' unique global sounds are a bridge between worlds, and their label Desert Trax has become a platform to spotlight similar alchemical artists.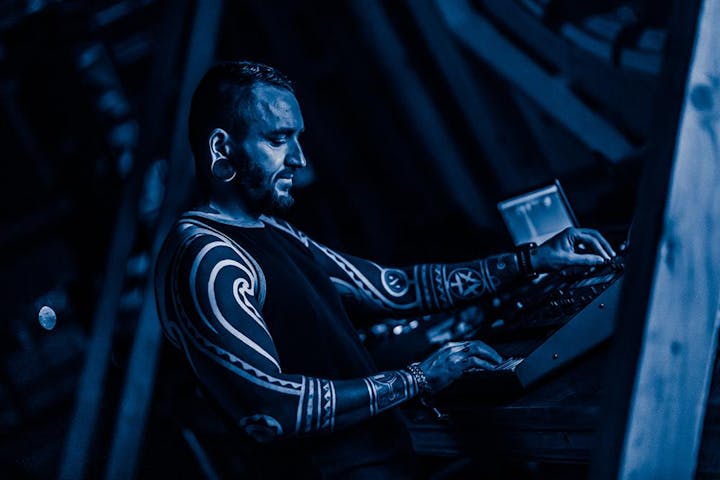 About Bluetech
Evan Bartholomew has been performing electronic music for nearly 20 years as Bluetech, Evan Marc and Invisible Allies (with Kilowatts).
As an an internationally recognized touring music producer with over 27 album / EP releases and a seasoned portfolio of video game and film scoring credits, Bluetech is a master of analog and modular sound synthesis and DSP audio manipulation. He brings a passion for sound design and cutting edge audio exploration into all the work he touches. His music transcends the constructs normally associated with a calculated "electronic artist," pursuing music with meaning and purpose with downtempo, future bass and progressive electronic music, rife with emotional intent and poly-rhythmic percussion.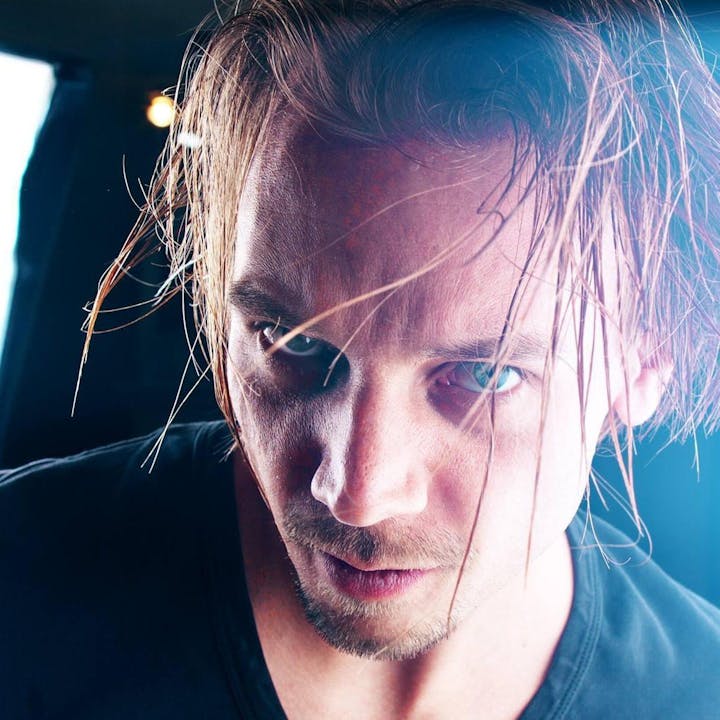 About Julius Horsthuis
Julius Horsthuis (Amsterdam, 1980) is a Visual Artist and Visual Effects Designer. Julius developed a love for film and video at the age of 12. After high school, he worked on various film sets as sound recordist, clapper loader and focus puller in the years 2000 to 2006. Baantjer (2000-2003), Koppels (2006). He also finished a one year video study in the Open Studio (2003). Meanwhile, Julius had developed interest in computer graphics. He worked for several years for different (post) production companies, Revolver (2004-2005) Carbon (2006-2010) and Hectic Electric (2010-present). Years of experience on the movie set proved invaluable. At Hectic, Julius supervised several films, such as "Nova Zembla" (Oerlemans, 2011) and Academy Award winning "Manchester by the Sea" (Lonergan, 2016) He took creative supervision on what was the most VFX-heavy film in the Netherlands: "Koning van Katoren" (Sombogaart, 2012)
In 2013, Julius started experimenting with Fractal Environments, creating a unique blend between abstract and cinematic animation. His work quickly gained worldwide recognition, being posted regularly in blogs and news sites such as The Creators Project, Gizmodo, Newsweek and the Vimeo Staff Picks. For various high-profile projects, Julius collaborated with other visual artists, such as Android Jones (Samskara), Esteban Diácono, and Beeple (Coachella Antarctic).
Musical collaborations include Odesza, Meshuggah, Tigran Hamasyan and Birds of Paradise. Also, his visuals have been used in live shows by Empire of the Sun, and the recently deceased Avicii.
Festival exhibitions include the Geneva International Film Festival, Art Futura Festival, MIRA Digital Arts Festival, SAT symposium Montréal, Coachella Music and Arts Festival, Ruhrtriennale, and many more.
Performers
Date and Time
Location