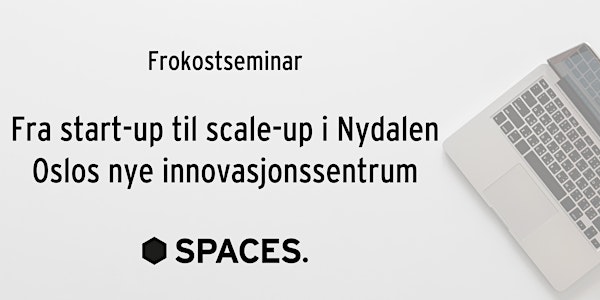 Fra start-up til scale-up i Nydalen, Oslos nye innovasjonssentrum
When and where
Location
Spaces - Oslo, Nydalen 33 Nydalsveien 0484 Grefsen Norway
Description
Velkommen til frokostmøte og åpen dag hos Spaces Nydalen!
Nydalen i Oslo har blitt en hub for tech-bedrifter og et sentrum for innovasjon. Gründerbedrifter i vekst etablerer seg nettopp her, etter at den første usikre oppstartsfasen er over. Mange mener Nydalen har blitt Norges svar på Boston. På dette frokostseminaret inviterer vi noen av Nydalens drivere for å snakke om livsløpet til en bedrift. Hvordan tar man skrittet fra start-up til scale-up, hvordan sikrer man seg de beste ansatte i denne fasen? Hva er utfordringene og hva er mulighetene?
Nysgjerrig på fleksible kontorløsninger? Spaces har åpen dag og du kan sitte gratis i våre kontorlokaler med alle fasiliteter ut dagen. I etterkant av presentasjonene vil det være mulig å booke gratis 1-1 møter og rådgivning med representanter fra Spaces.
Ønsker du å få gratis rådgivning fra Spaces' representanter? Send epost til ada.lea@gknordic.com
----------------------------------------------------------------------------------------------------
Program:
08.00: Kaffe og enkel frokost
08.30: Velkommen og en titt på internasjonale eiendomstrender, Norgessjef i IWG, Thomas Weeden
08.40: "Nydalen: Fra fabrikker til fremtidig tek-hovedstad", Øystein Thorup, adm.dir., Avantor
08.50: "Hvordan skalere tek-selskaper globalt", Hoa Le Nguyen, Head of Entrepreneurship and Scaleup, BI
09.05: "Hva vil fremtidens arbeidstakere ha?", Merete Balsvik, Event Marketing Manager, Academic Work
09.15: "Robot med menneskelignende syn tok Zivid fra startup til scaleup", Henrik Schumann-Olsen, Co-founder, CTO og CMO, Zivid
Etter foredragene blir det anledning til å booke 1-1 møter og rådgivning med konsulenter fra Spaces.
----------------------------------------------------------------------------------------------------