Description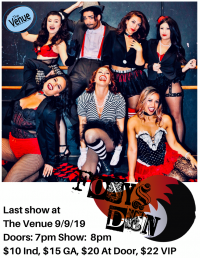 Welcome to FOXY'S DEN...
The party is starting. All that's missing is YOU!
Monday September 9th at The Venue
Doors 7pm
Showtime 8-10pm
Tickets: Pre-Sale $10 Industry, $15 General Admission, VIP $22 Reserved High top or Front row,
$20 at the door- Cash only at the door
It's our one year celebration! And it's also our last show at The Venue on Virginia Dr before their doors close.
We are so thankful for a successful year. We have grown a lot and we are ready to party in The Den.
Featuring some of Orlando's finest talent. A high energy fully choreographed burlesque production.
The show is always changing and new foxes arrive at The Den this month. This show will also feature some of our past guest artists. You never know what may happen.
A night to party, laugh, sing, and dance. An interactive experience where YOU become a part of the show.

Bring those dollars for tipping! and if you forget, there's an ATM across the street.
*No refunds.
*CASH ONLY AT THE DOOR- Industry tickets available at the door for $10
*18 and +