Description
Please join Foxfire Mountain House + The Upstate Table on Sunday, May 29 from 6 to 8:30pm in Mt. Tremper, NY, for an evening of community, food and conversation.
Cookbook author Rebecca Miller Ffrench will be serving fare from her new cookbook, Whole Protein Vegetarian, at Foxfire, the Catskill's newest inn. Meet owners Tim Trojian and Eliza Clark, as well as hear about upcoming events from Foxfire and The Upstate Table. Plus sample some tasty local Awestruck Ciders.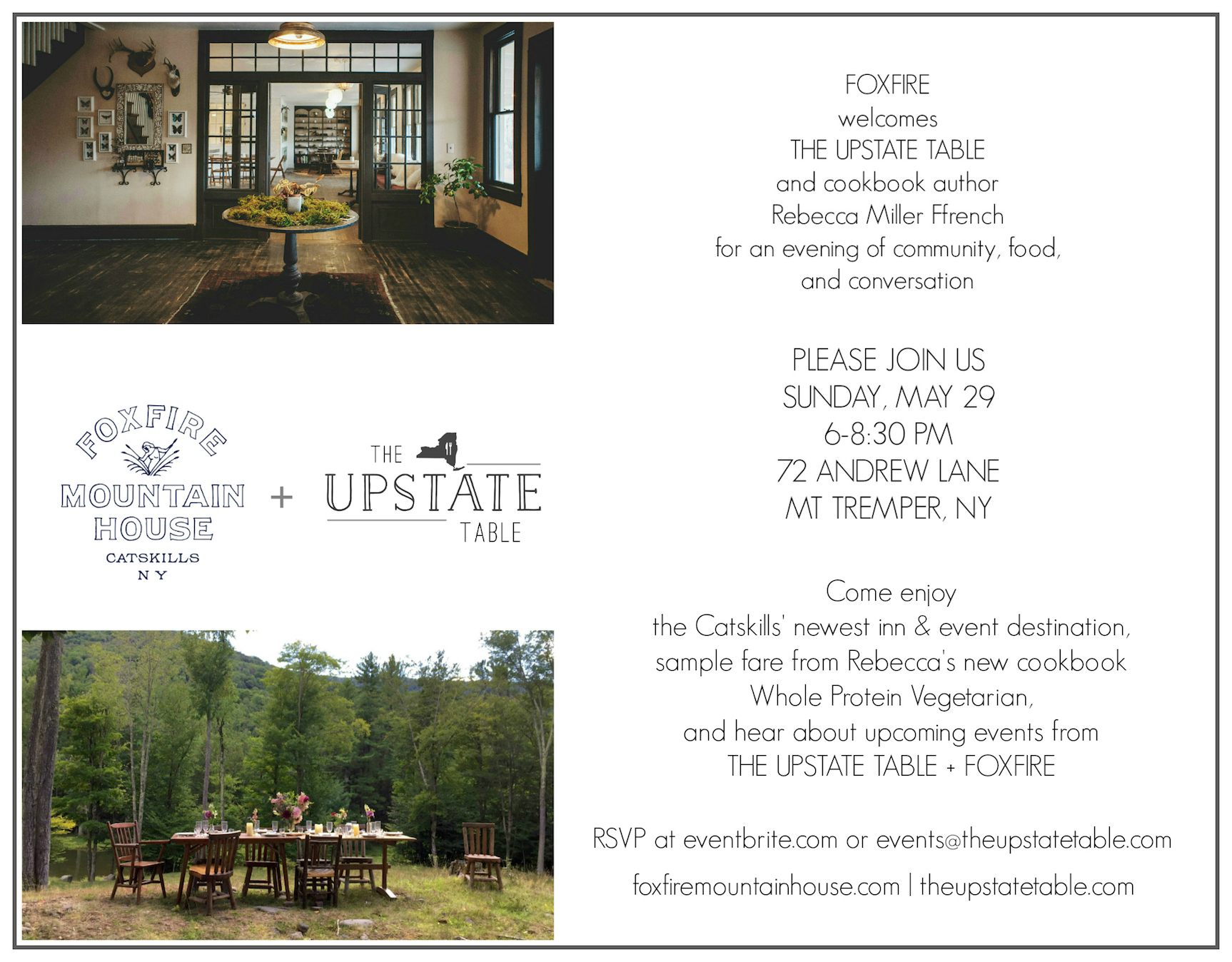 Sponsored by

Organizer of Foxfire + The Upstate Table Food and Book Party
Grab a drink. Pull up a chair. Welcome to the Upstate Table.
 
So glad you decided to stop by. We invite you to be a part of our community, which is based in the heart of the Catskill Mountains in upstate New York.
 
At the Upstate Table we're creating one-of-a-kind food experiences—pop-up meals, workshops, and gatherings in unexpected locales or ones not usually open to the public. And stay tuned. We are opening our own space in midtown Kingston early 2020! (Please send us your email address at events@theupstatetable.com if you'd like to be notified when we're open.)
While we're at the table together, we find meals inspire conversation, ideas, and exchanges of creativity. Good things happen. Connections are made. 
At the Upstate Table we're here to learn, create, and do good things, but really, we want to have fun along the way. We are here to share the spirit, passion and creativity we feel in Upstate New York. It certainly inspires us. We hope you feel the same.