About this Event
Enjoy Red & White Wines and Brews (Beers) throughout the Downtown Fox Lake, WI Chamber of Commerce Businesses! Businesses not located in Downtown Fox Lake will be set up in a partnering downtown Business!
Businesses Participating:
*On Lake Time
*Boat House
*Salon 311
*Cabby's Grill & Patio
*Living Hope Food Pantry
*Fox Lake Legion
*Quade Real Estate
*Ergo Bank
*Quit N Time
*Breaking the Mold
*State Street Salon
*Fox Lake Chamber of Commerce
*Nehls Realty
*Leroy Meats
*Fox Lake Golf Club
#winewalk #wine #foxlakewi #redwhiteandbrews #fun #beer
Are you a vendor or know of one who would be interested in being set up in downtown Fox Lake during the Fox Trot? Only $10 for a space!
Please fill out the form below and bring to the Fox Lake Chamber of Commerce by June 20, along with your payment of $10.
Space is limited, please contact Betsy Zuhlke of On Lake Time at 920-210-5700 or Vicki Matheys from The Boat House 920-928-3470.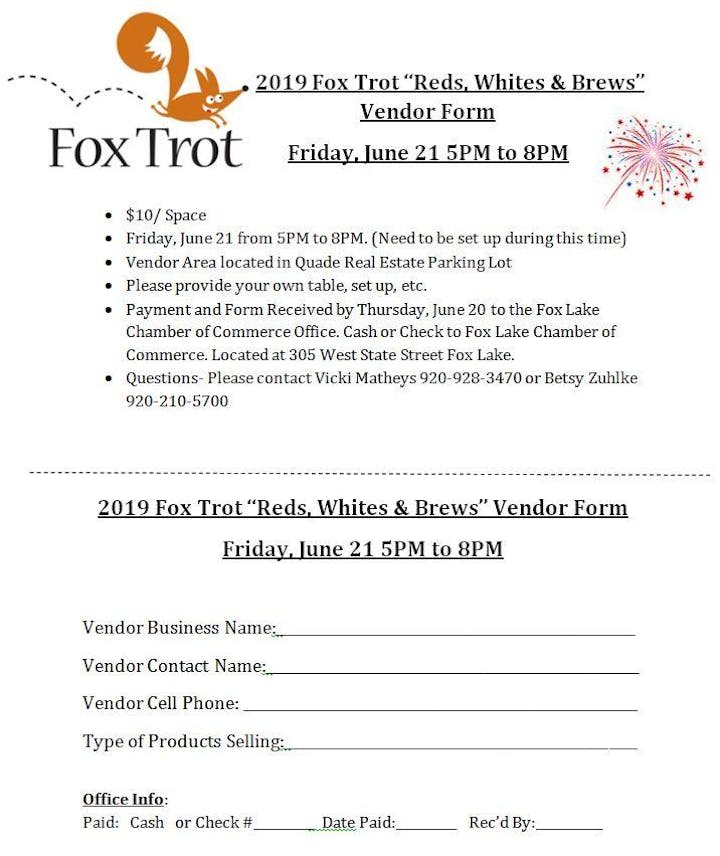 FAQ:
Where do I go to Register on the day of the event?
- Quade Real Estate 214 W State Street, Downtown Fox Lake
What time can I register for the event at Quade Real Estate on June 21?
-Registration starts at 2pm and ends at 6pm.
What do I need to bring to Registration?
-Driver's License (to verify legal age)-Email Verification of Ticket(s), no need to print off if on your phone.
Please follow our Facebook Event for more Information: Fox Trot "Reds, Whites and Brews" https://www.facebook.com/events/2205427042905181/