You are invited to stand in solidarity with survivors of sexual assault or sexual violence on Thursday, July 29 at our Denim Show.
About this event
Denim Day is an international celebration where millions of people wear jeans with the purpose to support survivors of sexual assault and educate themselves and others about all forms of sexual violence. For the past 22 years, people across the world have joined together in solidarity to support survivors by renewing our commitment to exposing harmful behaviors and attitudes surrounding sexual violence.
Denim Day was celebrated across the world on April 28 in 2021. Because of COVID restrictions and fear surrounding holding an event we wanted to wait to plan our event until we could have it safely. We chose July 29 to celebrate in the outdoors and share lunch while our volunteers show the many ways to wear denim knowing they are safe to do so.
FOX21 Daniela Leon will be Emcee for the event! A great piece about the Denim Show by our Event Emcee can be found here - Click to watch.
The mission for Finding Our Voices is to empower survivors of sexual assault to thrive by offering creative activities and healing events while advocating in our community.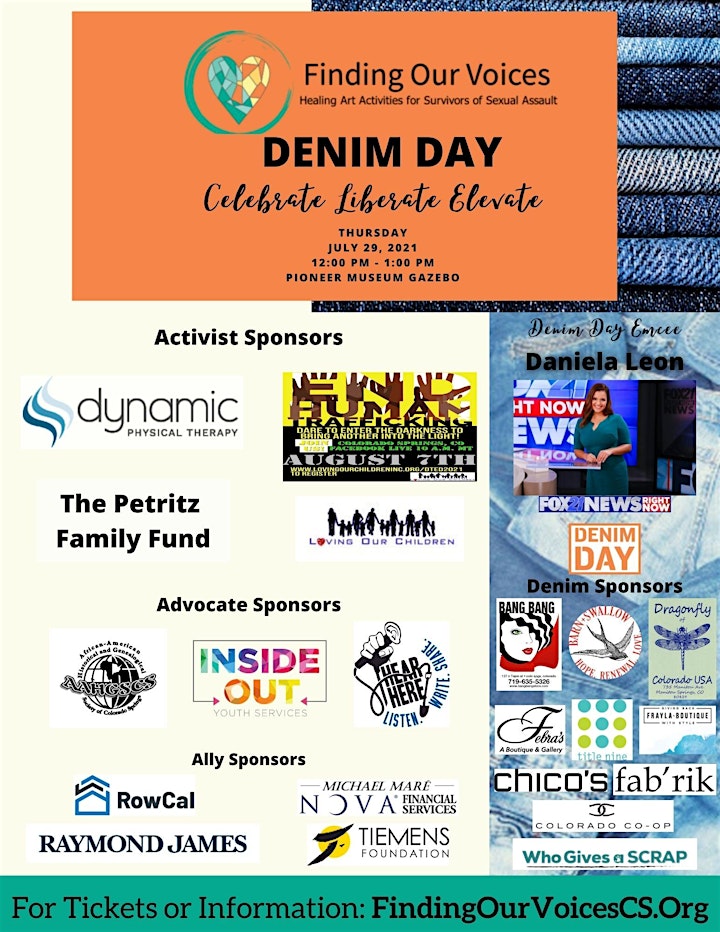 Food Trucks available on location for individual lunch purchases:
Black Forest Chew Chew