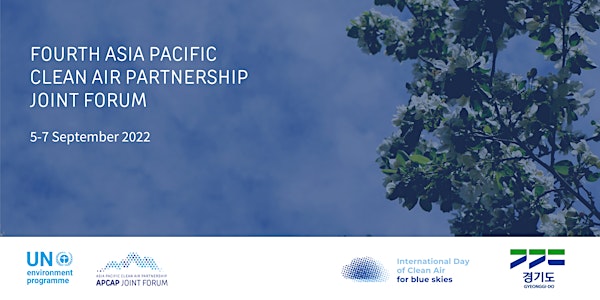 Fourth Asia Pacific Clean Air Partnership (APCAP) Joint Forum
The Air We Share: Scaling up governance, legislation, and finance action
When and where
Location
Suwon Convention Centre 140, Gwanggyojungang-ro, Yeongtong-gu Suwon, Gyeonggi-do 16514 Korea, Republic of
About this event
Polluted air is creating a health emergency. Air pollution remains as one of the world's largest environmental threats to human health. The Asia and the Pacific region is at the epicenter of this public health crisis, with about 4 billion people exposed to unhealthy levels of air pollution. According to the 2022 Sustainable Development Goals Progress Report, progress towards reducing urban air pollution has been stagnant since 2015.
Everyone is affected, but women, children, the elderly, and people living in poverty are bearing the brunt of its impacts. It is infringing on the right to a clean, healthy, and sustainable environment. Air pollution is also affecting the climate.
There is an urgent need to increase investment in and implement evidence-based policies which support clean energy and industry, sustainable mobility, better municipal waste management and sustainable agricultural practices. These efforts will reduce air pollution, support climate action, and help achieve other development goals. Strengthened international cooperation and collective action is also critical to turn the tide on air pollution.
The Fourth Asia Pacific Clean Air Partnership (APCAP) Joint Forum will showcase practical and effective multi-sectoral clean air solutions and discuss importance of collective action to improve air quality, protect people's health, contribute to a stable climate, and help achieve the Sustainable Development Agenda. The multi-stakeholder forum, hosted by the Gyeonggi Provincial Government in the Republic of Korea, will have the theme "The Air We Share: Scaling up governance, legislation, and finance action", and will be held in a hybrid format on 5-7 September 2022.
Join Us
Register: Please register your attendance, here on Eventbrite, by September 2.
Virtual participation: Participants can join virtually through a Zoom platform. The link will be shared with participants after registration.
Onsite: Suwon Convention Centre, Suwon, Gyeonggi Province, Republic of Korea.
Get Involved
The Fourth APCAP Joint Forum serves as a regional knowledge exchange and dialogue platform on clean air for the Asia Pacific region to:
Inform the state of air quality in the region and recognize progress made to address air pollution at multiple levels (city, national and regional) and its benefits for climate, in line with the UN Environment Assembly Resolution 3/8 on Preventing and Reducing Air Pollution Globally.
Share and exchange solutions addressing the key emission sectors with a focus on governance, legislation, and finance.
Showcase innovative tools for reducing air pollution, including use of digital tools for air quality monitoring and assessments.
Inspire and accelerate action through regional cooperation for clean air.
The Fourth APCAP Joint Forum contributes to the commemoration of the International Day of Clean Air for blue skies in the Asia and the Pacific region.
For more information about the event, please visit the event website.