Fourth Annual Symposium on Equality & The Thaddeus Stevens Award Dinner

Thursday, October 6, 2011 from 8:30 AM to 9:00 PM (EDT)
Event Details
Thursday October 6th, 2011

---
Join the Public Interest Law Center of Philadelphia for its fourth annual Symposium on Equality: 

Overstudied and Underserved: Uses of the Law to Promote Healthy, Sustainable Urban Communities
Followed by:
The Thaddeus Stevens Award Dinner
Overstudied and Underserved: Uses of the Law to Promote Healthy, Sustainable Urban Communities:
8:30 a.m. - 4:45 p.m.  at the Arch Street Meeting House
4th and Arch Streets, Philadelphia, PA

An in-depth look at legal and advocacy tools for protecting minority and low-income communities disproportionately affected by negative environmental impacts, both by stemming further pollution and by crafting a positive vision of their environmental and economic revitalization.
Topics will include:

What is environmental justice, and where do we stand?
How can overburdened communities most effectively organize around environmental justice and public health issues?
How can we foster cross-disciplinary collaborations, incorporating law, public health and medical sciences, and other technical sciences, to inform and energize environmental justice advocacy and litigation?

How can cumulative impact screening tools best be designed and put to use in environmental litigation and the region's regulatory procedures?
How can we get past the false choice between jobs and the environment and create healthy, sustainable, and prosperous communities in historically overburdened neighborhoods?
Featuring keynote speaker Vernice Miller-Travis,
Vice Chair, Maryland State Commission on Environmental Justice and Sustainable Communities; Co-founder of WE ACT for Environmental Justice; member of National Environmental Justice Advisory Council (NEJAC)
Other community leaders and experts from the Philadelphia region and around the country will serve as panelists and speakers, sharing their expertise in order to give us the practical tools needed to drive positive environmental change in disadvantaged communities, including:

Alan Greenberger, Deputy Mayor for Planning and Economic Development and Director of Commerce, City of Philadelphia
Cecil Corbin-Mark, Deputy Director/Director of Policy Initiatives, WE ACT for Environmental Justice
Dr. Arthur Frank, Professor and Chair, Department of Environmental and Occupational Health, Drexel University
Dr. Julie Becker, Founder and President, Women's Health and Environmental Network
Eileen Gauna, Professor of Law, University of New Mexico 
Leslie Fields, National Environmental Justice Director, Sierra Club
Melissa Kim, Director, North 5th Street Revitalization Project, Korean Community
Dr. Louis M. Bell, Chief of the Division of General Pediatrics, Attending physician for Infectious Diseases, Children's Hospital of Philadelphia
And many more!
The Symposium is being chaired by Law Center Board Member Donald K. Joseph, Associate Professor of Law at Rutgers Camden, where he teaches poverty law, ethics and professionalism. Mr. Joseph has litigated in diverse matters and was listed in "Best Lawyers in America" for his environmental litigation.
6 CLE Credits (pending approval) will be offered for this portion of the event.
Continental Breakfast and Lunch will be served.

Followed by a cocktail reception, silent auction &
The Thaddeus Stevens Award Dinner
5:00 p.m. - 9:00 p.m. at the Down Town Club
6th & Chestnut Streets, Philadelphia, PA
The Law Center is honored to announce that we will present our Thaddeus Stevens Award to environmental justice pioneer and emeritus Law Center attorney Jerry Balter!
 
The Thaddeus Stevens Award, given out each year to individuals who have made substantial contributions to equality and justice in the issue area examined in that year's Symposium, this year recognizes Jerry's tenacious lawyering on behalf of minority and impoverished communities throughout the Philadelphia region victimized by disproportionate environmental harm.   

********************************************************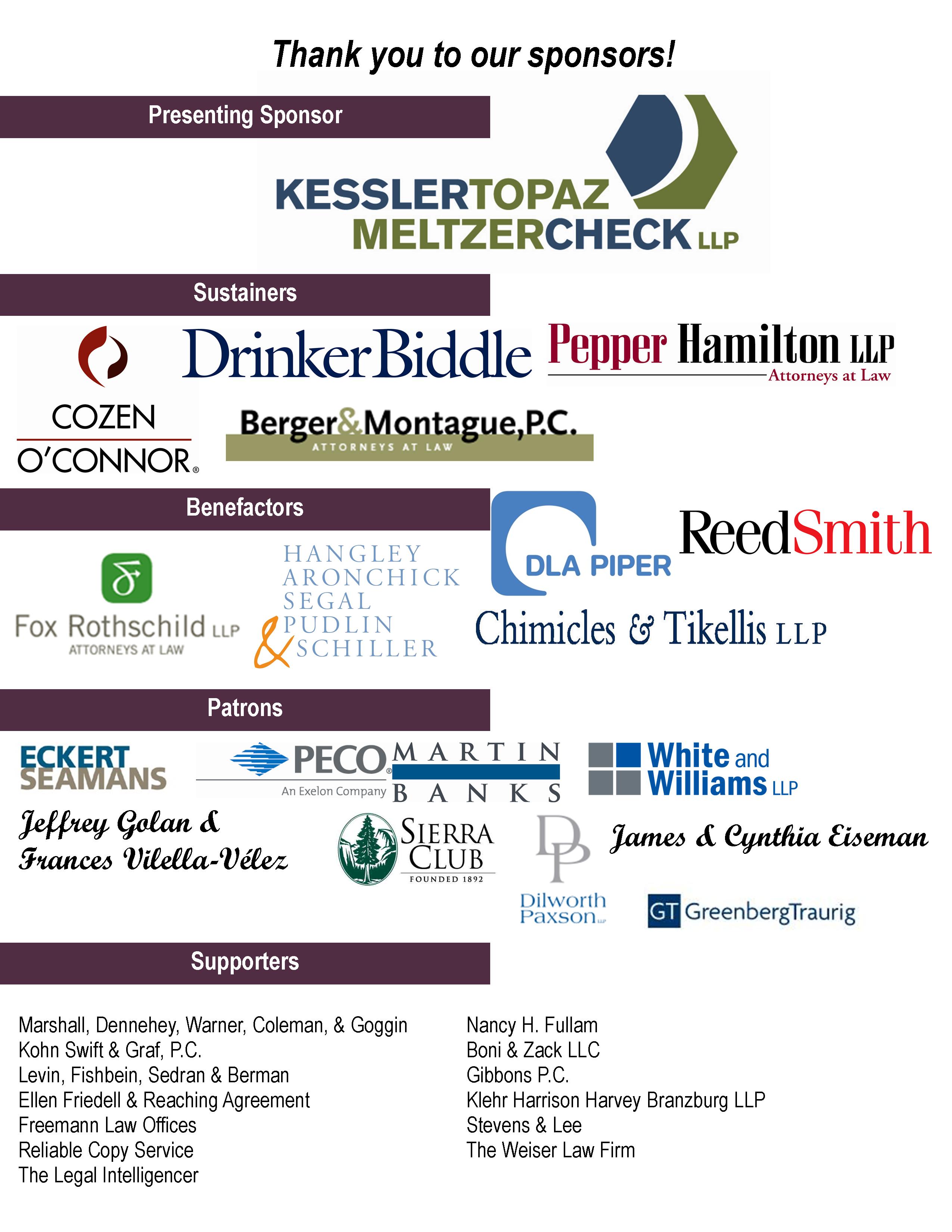 SPONSOR THE EVENT – Contact Taylor Goodman at tgoodman@pilcop.org or 267-546-1303 with questions.

Presenting Sponsor – $20,000+
Sustainer – $10,000
Benefactor – $5,000
Patron – $2,500
Supporter – $1,000
Friend – $500
Read about the benefits of each sponsorship level.
PROGRAM BOOK ADS – Program Book ads may be submitted by emailing your "camera ready" ad (or unformatted text/photos) to tgoodman@pilcop.org. Electronic image requirements: jpg format, at least 300 dpi.
Full page (8 ½" x 11") – $750
Half page (8 ½" x 5 ½") – $375
Quarter page (4 1/4" x 5 ½ ") – $200
One Eighth page (4 ¼ " x 2 ¾") – $100
The final date to commit your sponsorship or purchase a program book ad is September 22, 2011

The Public Interest Law Center of Philadelphia is a registered charitable organization and is recognized by the Internal Revenue Service as a 501(c)(3) organization. The official registration and financial information of the Public Interest Law Center of Philadelphia may be obtained from the Pennsylvania Department of State by calling toll free within Pennsylvania at (800) 792-0999.  Registration does not imply endorsement.

When & Where

The Arch Street Meeting House
4th and Arch Streets
Philadelphia, PA


Thursday, October 6, 2011 from 8:30 AM to 9:00 PM (EDT)
Add to my calendar
Organizer
The Public Interest Law Center uses high-impact legal strategies to advance the civil, social, and economic rights of communities in the Philadelphia region facing discrimination, inequality, and poverty. We use litigation, community education, advocacy, and organizing to secure their access to fundamental resources and services.
The Law Center, which opened its doors in 1969 as one of the eight original affiliates of the Lawyers' Committee for Civil Rights Under Law, works in employment, environmental justice, healthcare, housing, public education and voting.