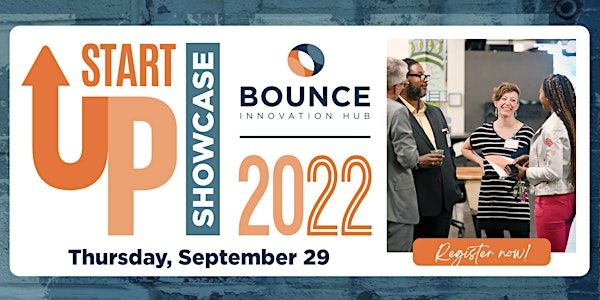 Fourth Annual Startup Showcase
Join us for a celebration of our programs and companies at the 2022 Bounce Startup Showcase!
When and where
Location
Bounce Innovation Hub 526 South Main Street Akron, OH 44311
About this event
Fourth-Annual Startup Showcase
Presented by Burton D. Morgan Foundation and Akron Energy Systems
You're invited as we showcase our entrepreneurial programs and clients at this year's Startup Showcase. Connect with potential mentors, customers and investors.
In addition to the showcase, this year there will be a half-day of content, which will include entrepreneur-focused workshops.
Ticketing Information
Workshop tickets are available for $10 each and include free admission to the showcase. Workshop attendees will choose their ticket based on the track they plan to attend (tech-focused track or small business-focused track). Each track includes four workshops, as listed below.
Showcase tickets are available for $10 each and include one (1) free drink ticket.
*VIP Dinner Tickets are $75 and are limited. Email thegenerator@bouncehub.org to be put on a waitlist.
Agenda
Afternoon Presentations and Workshops
Noon — Registration
1 p.m. — Opening Statements
1:15 p.m. — Keynote Speaker, Wesley the Keeper, Akron Honey
1:55 p.m. — Small Business and Tech Startup Group Sessions
2:35 p.m. — Small Business-focused and Tech-focused Workshops
Tech Workshop Topics
Venture Capital and Fundraising with East and West Coast Investors
Sales 101: Creating Traction for Your Startup
Customer Discovery and the Business Model Canvas
Startup Housekeeping: Legal, Accounting and Insurance
Small Business Workshop Topics
Social Capital
Access to Capital
Online Vs. Brick and Mortar
Navigating the Akron Entrepreneurial Ecosystem
5:05 p.m. — Networking and VIP Dinner
VIP Dinner
5:05 p.m. — Dinner
6:00 p.m. — Closing conversations
Showcase
6:30 p.m. — Showcase of Featured Companies
Time2Talk
Corrolytics
Black Culture Candles LLC
Given Charge Services LLC
Dustin Whapham
Please visit the 2022 Startup Showcase website to learn more about the companies and workshop descriptions.
Please contact thegenerator@bouncehub.org with any questions or concerns.
***************************************************************************
Thank you to our sponsors!
Presenting Sponsors: Akron Energy Systems and Burton D. Morgan Foundation.
Partnership Sponsors: Chase Bank and PNC.
Community Sponsors: MAGNET and Pease Bell CPAs.
Catalyst Sponsors: Akron Community Foundation, Brouse McDowell, Greater Akron Chamber, LTA Research, Marcum LLP, Premier Bank, Project MedTech, Roetzel and SeibertKeck Insurance Partners.
Networking Sponsors: Consolidus, The Goodrich, Health Markets - Suzanne Smaltz, Huntington Bank, Interstate Fusion Ventures, Jumpstart Inc., Leonard & TerzolaRea & Associates and SACS Consulting.